Jeffrey Lord Flunks School on Cause of 2008 Financial Crisis
Topic: NewsBusters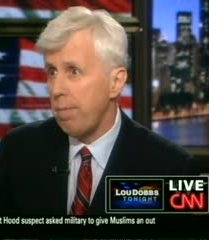 The Media Research Center's Nicholas Fondacaro channels the ghost of Noel Sheppard in a May 25 post headlined "Jeffrey Lord Schools Former Philly Mayor on Origin of Housing Collapse":
NewsBusters contributor Jeffrey Lord laid out the facts about the origin of the housing market collapse of 2008, on CNN's America's Choice 2016 primary coverage Tuesday night. "You've got people out there saying that the Clinton housing policy helped cause the housing crisis in the first place," Lord stated, after being asked if it was smart for Hillary Clinton to attack Donald Trump for his comments about the bubble poping. Former Philadelphia Mayor, Michael Nutter had a bone to pick with Lord over his facts.

Nutter wanted to blame the collapse, not on bad government policy, but solely on Republican President George W. Bush:

[...]

Lord shot back, "It was set in motion in the 1990s." Nutter couldn't seem to keep up with Lord's line of reasoning. He instead chose to argue that the right was going to try to blame "every bad thing" on Hillary.

"Their policy was to force the government to give mortgages to people who couldn't afford to pay them back and it caused the economy to collapse," Lord continued, not letting up. "That was 20 years ago," Nutter responded again, "At that time, George Bush was president of the United States of America when this was all going on." Lord shot back yet again by reiterating that the policy that forced the banks to give loans to people was signed by then President Bill Clinton.
We wouldn't want to go to any school where Lord is teaching, because it's simply not true that Clinton administration policies were the sole cause of the financial crisis, as he is apparently claiming.
It's unclear which particular Clinton policies Lord is blaming, but two have been targeted by other right-wing critics eager to shift blame away from Republicans: the 1995 Community Reinvestment Act, and the 1995 National Homeownership Strategy initiative.
Regarding the former, the Richmond Federal Reserve Bank points out that the 1995 CRA "came more than a decade before most of the financial crisis seeds were sown," adding: "There have been no substantive changes to CRA regulations since the mid-1990s to cause a major change in LMI lending trends, yet the subprime crisis is rooted mainly in mortgages extended between 2004 and 2007. That implies other factors caused the more recent boom in subprime lending and deterioration of lending standards."
The latter, it could be argued, may have been a contributing factor, though -- as with the CRA -- its major effects were seen well before the financial crisis occured. The Richmond Fed states that the strategy was part of a series of policies that "may have conveyed ongoing government support of the housing market and reduced the propensity of lenders, markets, and regulators to question loosened lending standards and investment in housing."
It's absurd to blame a single policy adjustment 20 years ago for a financial crisis -- the economy's too complex for that, and there's plenty of blame to go around (which Lord definitely doesn't want to admit). Indeed, Time magazine lists 25 people who could share blame for the financial crisis. Clinton is on there, but so is President George W. Bush along with several bankers and subprime mortgage lenders.
Is the "school" Lord is running here affiliated with Corinthian Colleges or something? Count us out.
Posted by Terry K. at 2:21 PM EDT