MRC's Double Standard on Donations Influencing Reporting
Topic: Media Research Center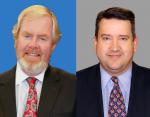 Tim Graham and Brent Bozell complain in their May 25 column about National Public Radio accepting money from "large left-wing funders" and purportedly influence reporting, in particular attacking the Ploughshares Fund for funding national security coverage on NPR, including reports on the U.S.-Iran nuclear negotiations. "There is no transparency," Graham and Bozell rant (though they do immediately cite a example of the transparency they claim doesn't exist).
This might be a devastating accusation if the organization Bozell and Graham run didn't engage in the exact same behavior they're railing against.
We'vbe documented how the Media Research Center has received millions in donations from oil and fossil-fuel interests -- to the point that MRC vice president Dan Gainor also holds the endowed-chair title of T. Boone Pickens Fellow -- and how, coincidentially, the MRC's "news" division, CNSNEws.com, offers favorable, uncritical coverage of the oil and gas industry.
CNS' oil and gas sycophancy -- presumably funded by those MRC donations -- has continued apace, most recently with CNS publishing an armada of op-eds defending a right-wing think tank from a subpoena demanding documents showing how it worked with ExxonMobil to suppress evidence that climate change is driven by fossil fuels and undermine the scientific concensus that reached that conclusion.
And that's just the most obvious connection. Who knows what other biased CNS reporting is bought and paid for by right-wing donors? We don't, because Bozell and the MRC have disclosed absolutely nothing about it.
So Bozell and Graham want full transparency of donations from outside groups that could influence reporting? You first, guys. Either that, or change CNS' name to Cybercast Propaganda Service.
Posted by Terry K. at 12:42 PM EDT
Updated: Monday, May 30, 2016 12:58 PM EDT