MRC Attacks Media For Accurately Reporting Cruz's Dire Prospects in Indiana Primary
Topic: Media Research Center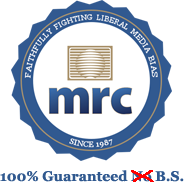 Apparently, it's "biased" for the media to report pre-election polling if those polls reflect bad on a candidate the head of the Media Research Center has endorsed. That's what we glean from Kristine Marsh's May 2 MRC NewsBusters item:
The evening news broadcasts set the negative tone for Ted Cruz Monday night, all virtually predicting that Cruz would lose to Trump in Indiana and his chances at the nomination were slim to none.

The path to the nomination "appears to have run out for Ted Cruz" Scott Pelley intoned on CBS Evening News. "After being crushed" by Trump in the most recent primary, Scott Pelley stated, Cruz was "likely looking at another loss" tomorrow. CBS all but declared Trump the winner of Indiana as correspondent Major Garrett noted the "frantic pace" at which Cruz was campaigning in Indiana, claiming it matched the Senator's "sense of anxiety" about his "standing in the polls" which show an impending "Cruz-crushing sweep" in Trump's favor.
Which is, of course, exactly what happened. Marsh has yet to write a follow-up piece admitting the networks were correct in reporting pre-election polling that turned out to be accurate.
Nicholas Fondacaro continued the bash-the-truth tone in a post complaining that "With the Indiana primary a day away the liberal media is franticly pushing the narrative that Ted Cruz is going to lose and Donald Trump is destined to be the nominee." He singles out Bloomberg TV's "With All Due Respect":
Co-host of the show John Heilemann declared Indiana was the end of line for Cruz, "this was the last stand for the Never Trump movement."

[Republican operative Nicolle] Wallace claimed that her experience in being a part of failed campaigns gave her unique insight to recognizing Cruz's was failing, "I have been inside a campaign in their final days. And I think there are things you know and things you say, and I get the distinct impression watching Ted Cruz there." Wallace claimed the election outcome was so obvious everyone including Cruz knows what's coming, "I think he knows exactly what's going to happen tomorrow."

Heilemann threw the spin into overdrive by claiming Cruz could drop out of the race Tuesday night. "If it's a shellacking tomorrow, if Trump wins by 15 points as the NBC/Marist/Wall Street Journal poll suggests, or more," Heilemann heavily speculated, "It's not outside the realm of possibility that Cruz will quit, I think. Not outside the realm of possibility." When a candidate like Cruz is saying that Trump is the same as Hillary Clinton it's are to argue that he's going to just surrender.
Which, again, is exactly what happened. Like Marsh, Fondacaro has yet to apologize.
Posted by Terry K. at 8:11 PM EDT