CNS' Starr Peddles Pastors' Falsehoods, Adds One Of Her Own
Topic: CNSNews.com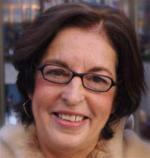 Penny Starr is a terrible reporter. That's because while that may be her position in the scheme of things in the "news" structure that CNSNews.com uses, she's not really a reporter at all -- she's a propagandist, content to regurgitate whatever right-wing talking points are on the day's agenda at her employer, the Media Research Center.
Second, even as a pretend reporter Starr is terrible -- she doesn't fact-check or even, apparently, review her work once she types it. We've already caught Starr repeatedly misspelling the name of a person she devoted an entire article to. CNS corrected the name after we highlighted the misspelling; it seems CNS doesn't have any in-house copy-editors (or any competent ones, anyway) to catch such incompetence before publication, even though the MRC is a multimillion-dollar organization.
Starr's shoddiness and unwillingness to fact-check comes through again in a series of articles in which she attempts to manufacture another attack on the Smithsonian for displaying art she doesn't personally like.
In an Aug. 7 CNS article, Starr touts how a previously unknown "group of black pastors sent a letter to the director of the Smithsonian Institution's National Portrait Gallery asking that the bust of Planned Parenthood Founder Margaret Sanger be removed from the museum's 'Struggle for Justice' exhibit, citing her support for eugenics and the targeting of minorities by the nation's largest abortion provider."
Despite CNS' mission statement to "fairly present all legitimate sides of a story," Starr can't be bothered to do so here. For instance, she fails to explain that the head of this pastors' group, E.W. Jackson, is a notorious homophobe, declaring that gays are "very sick people psychologically, mentally and emotionally" and asserting that God will punish America for advancing marriage equality.
The irony of a hater like Jackson lecturing us about someone else's purported hate is quite thick, but Starr can't or won't see it.
Starr also makes this claim that she attributes to the pastors: "The letter also states that 70 percent of Planned Parenthood abortion clinics are in minority neighborhoods and provides a link to a map documenting this fact."
Actually, that isn't a "fact" at all -- it's a lie. The Guttmacher Institute conducted a census of all known abortion providers in the U.S. in 2011, and found that 60 percent of them were in majority white neighborhoods, and that fewer than one in ten are located in neighborhoods where more than half of the residents are black.
On top of that, what Starr claimed the pastors said about that isn't what they actually said. The pastors' letter attached to Starr's article claims that Planned Parenthood is "locating 70% of its abortion facilities within in [sic] or near black and Latino communities."
We added the italics on "or near" to highlight the fudge factor in this statement. According to the website the pastors use to support this claim, "near" (or "within walking distance" in the website's terminology) is defined as a two-mile radius of the facility, and it seems that more often than not, those black and Latino neighborhoods are on the fringe of that two-mile radius.
Starr can't even get her own propaganda straight.
Speaking of propaganda, Starr uncritically repeats the pastors' claim that "the notorious 'Negro Project,' which sought to limit, if not eliminate black births, was [Sanger's] brainchild." Starr goes on to repeat a notoriously out-of-context claim by Sanger about the Negro Project, that "We do not want word to get out that we want to exterminate the Negro population and the minister is the man who can straighten out the idea if it ever occurs to any of their more rebellious members."
A Washington Post fact check notes that this passage "is frequently taken out of context to suggest Sanger was seeking to exterminate blacks," and that in fact the project -- which was about birth control, not the attempt to "eliminate black births" the pastors dishonestly claim it is -- sought to recruit black leaders for the effort to allay suspicions blacks might have had about whites like Sanger being involved.
Despite these claims being exaggerated or completely false, Starr repeats them in an Aug. 13 article. And an Aug. 20 article by Starr repeats the dishonest attack on the "Negro Project" again, though not the completely false "70 perent" claim.
Not only is Starr peddling her own false claims, she gives Jackson and the other pastors a pass on the dishonest claims they make; she makes no effort whatsoever to do even the most basic fact-check (or, it seems, checking her own work against the stuff she's cribbing it from).
That's why Starr is a terrible reporter. But her lies make her a passable propagandist, and that's why she will continue to have a job at CNS.
Posted by Terry K. at 2:57 PM EDT
Updated: Tuesday, August 25, 2015 3:03 PM EDT