MRC's Tim Graham Gets It Wrong
Topic: Media Research Center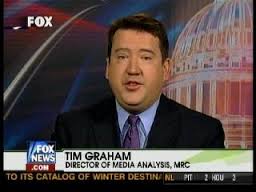 Tim Graham is the director of media analysis at the Media Research Center, so you'd think he'd care at least somewhat about getting his facts straight. If he ever did, he doesn't now.
Graham begins an Aug. 19 NewsBusters post this way: "Very liberal 'Very Rev.' Gary Hall is stepping down at the end of the year after just three years as dean of the Washington National Cathedral, reported Washington Post religion reporter Michelle Boorstein." By putting "Very Rev." in scare quotes, he seems to be suggesting that it's a made-up title that Hall was using for self-aggrandizement.
In fact, according to the Episcopal Church's style guide, "Very Rev." is a title used for the dean of a cathedral, which Hall was. Indeed, the bio for Hall on the National Cathedral's website identifies him asa the dean and as "Very Rev."
As much as the MRC rails against alleged mocking of the Christian faith, Graham should know better than to suggest that Christian denominations that don't align with his own (as far as we know, Graham is a Catholic) are making up things.
Graham followed that up by parroting a few conservative myths about convicted criminal James O'Keefe in an Aug. 22 post railing at Time magazine reporter Zeke Miller for noting that O'Keefe acolytes are trying to infiltrate the Hillary Clinton presidential campaign:
Miller showed a tilt by noting "O'Keefe rose to fame in 2009 with edited videos appearing to show employees of the Association of Community Organizations for Reform Now (ACORN) encouraging criminal behavior, resulting in the freeze of federal funding to the organization."

"Appearing to show"? Why do liberal journalists pretend what these videos show is in doubt? (As they presently do with Planned Parenthood!) In 2009, O'Keefe and his colleague Hannah Giles posed garishly as a pimp and a prostitute and asked ACORN staff in their Baltimore office how to shelter their illegal income from taxes, even as they claimed they were bringing in under-age girls from Latin America to be their sex workers. The reality of this and videos taken in other cities caused ACORN to lose their federal funding, despite minimal liberal media coverage.
In fact, as Media Matters' Eric Boehlert detailed at the time, there's no evidence O'Keefe went to any ACORN office to pull his undercover scam dressed "garishly as a pimp"; he wore normal street clothing, and the stereotypical pimp getup was used in promoting his scam.
Further, most of O'Keefe's ACORN videos show that he does not explicitly explain that he's trying to engage in child prostitution, O'Keefe and co-conspirator Hannah Giles lied for more than two months about an ACORN employee who had allegedly helped them but in fact did not (O'Keefe was subsequently ordered to pay the employee $100,000 over the lies), and no official investigation found criminal wrongdoing on ACORN's part.
We're unsure what "reality" Graham is referring to, but it sure doesn't seem to involve the actual content of the ACORN videos -- only what the heavily edited versions claimed to say. Sounds a lot like the Planned Parenthood attacks, doesn't it?
When the name of your organization has "media research" in its name, you'd think it would excel at, you know, media research. Graham's work puts the lie to that.
Posted by Terry K. at 9:56 PM EDT