NewsBusters Misses the Point About Obama Selfie Coverage
Topic: NewsBusters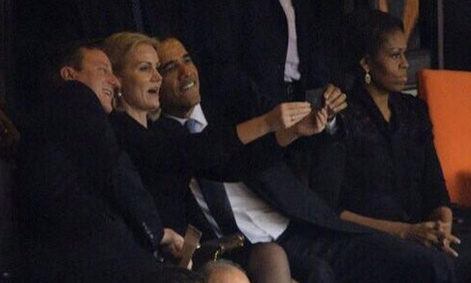 The Media Research Center is so obsessed with President Obama, they don't understand when they're being criticized.
Randy Hall uses a Dec. 15 NewsBusters post to complain that the photographer who shot the Obama selfie photo at the Nelson Mandela memorial service was complaining that the photo dominated coverage. Hall then quotes a right-wing blogger who purports to read the photographer's mind to find out what was really saying:
I broke news -- I'm a successful wire service photog! But I broke news that made Mr. Obama look bad. I'll never hear the end of this from my peers standing around the Monsieur Coffee machine in the AFP break room in their Paris HQ.

I am a failure of a photographer. I'll never be stupid enough to break news again. Mon Dieu! Where did it all go wrong?
Except, of course, that the photographer, Roberto Schmidt, said no such thing. If Hall had actually read what he pasted in his post about what Schmidt said, it's clear that Schmidt is lamenting the selfie got coverage at the expense of anything having to do with the actual event -- the Mandela memorial. At no point does Schmidt express any mortification at making Obama "look bad."
Hall is simply putting words into Schmidt's mouth, and he apparently never read what he's writing.
Posted by Terry K. at 2:30 PM EST