MRC's Bozell Invokes Limbaugh -- Who He Couldn't Criticize -- To Bash Martin Bashir
Topic: Media Research Center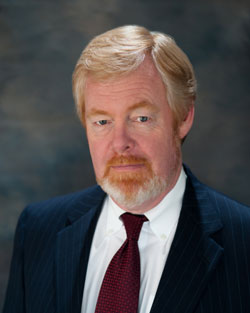 In 2012, when Rush Limbaugh repeatedly denigrated Sandra Fluke, Brent Bozell was a profile in cowardice, unable to work up any harsher criticism than "let's all agree Limbaugh crossed a line" and even starting a short-lived "I Stand With Rush" website.
Which makes Bozell's whining about Martin Bashir's comments about Sarah Palin while invoking others' criticism of Limbaugh -- criticism he couldn't be bothered to make himself -- utterly hypocritical:
While the liberal networks all blew gaskets over Limbaugh calling Sandra Fluke a "slut," not one of them has covered Bashir's remarks. How's that for hypocrisy? Associated Press media reporter David Bauder filed at least three stories, but there was mostly silence outside of Fox News. The Washington Post and USA Today published nothing, and it only came up in The New York Times as a clause of a TV listing about the subjects of "Fox News Sunday." There was nothing on ABC, CBS, NBC, NPR or PBS. CNN only touched on it once during its "New Day" morning show and once on its "Reliable Sources" journalism program.

One obvious answer for this blackout is that Limbaugh is far more popular in America than Bashir, who few watch. But another obvious answer is media liberals despise Limbaugh and Palin, and sympathize with Bashir and the audience that loves this kind of hate speech toward conservatives.
Not only is Bozell sympathetic to Limbaugh's views, his Media Research Center gave Limbaugh its very first "William F. Buckley, Jr. Award for Media Excellence" in 2007. He can't even claim to apply the same standard to all MSNBC hosts who said ugly things; when then-MSNBC host Don Imus insulted the Rutgers women's basketball team with a racial slur, Bozell said only that the remark was "stupid" then tried to change the subject.
He couldn't possibly diss Limbaugh by doing something so gauche as criticizing something that manifestly deserved criticism -- as we've seen, ideological loyalty is much more important to him than logical consistency.
Bozell concludes his column by sneering, "There's a concept with which the folks at MSNBC are manifestly unfamiliar. Honor." Speak for yourself, Brent.
Posted by Terry K. at 5:30 PM EST