MRC's Double Standard on MSNBC Hosts Saying Insulting Things
Topic: Media Research Center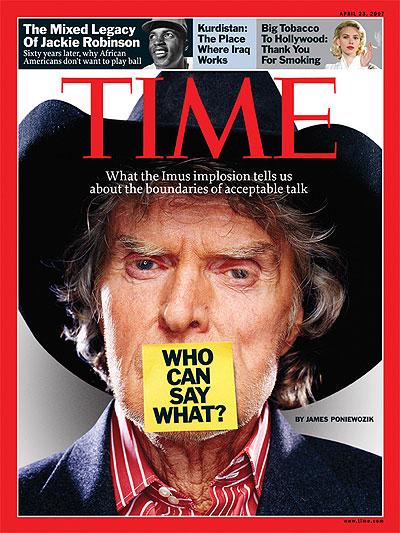 The Media Research Center has been in high dudgeon lately over Martin Bashir's remarks about Sarah Palin, for which he has apologized. But a few years back, another MSNBC host who said something offensive got much different treatment.
In 2007, when Don Imus described the Rutgers women's basketball team as "nappy-headed ho's," the MRC really didn't want to talk about it. Brent Bozell -- in an example of cowardice that rivaled his treatment of Rush Limbaugh's sleazy remarks about Sandra Fluke -- conceded only that Imus' words were "stupid," then desperately tried to change the subject: "But where were these people when the subject was gangsta rap? With these arrogant and profane multi-millionaires routinely insulting and deriding people, especially black women, with language one hundred-fold more offensive than anything that ever came out of the I-Man's mouth?" Bozell also hypocrically accused CBS of hypocrisy for canceling Imus' radio show over the controversy.
When Imus got a new radio gig, NewsBusters' Noel Sheppard cheered on Imus seeking to "avenge" his firing by going after "the group that disseminated transcripts of his broadcast concerning the Rutgers women's basketball team, Media Matters for America." Sheppard added: "Right-thinking Americans across the fruited plain should hope that Imus is going to make it a crusade to expose the various entities in this nation such as Media Matters and the Center for American Progress which are indeed nothing more than propaganda arms of the Clintons. Good luck, Don. Give 'em hell!" Sheppard couldn't even be bothered to criticize Imus' offensive remarks.
Does this sound like an organization that has any moral authority to speak out against Bashir? Didn't think so.
Posted by Terry K. at 12:53 PM EST