CNS Followed MRC Parent In Exploiting CPAC (And Censoring Lawsuit Against Matt Schlapp)
Topic: CNSNews.com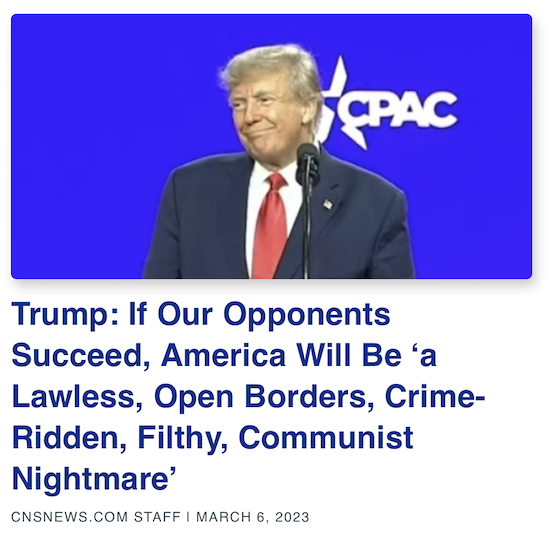 Like its Media ResearchCenter parent, CNSNews.com has had its issues with conservative gathering CPAC -- mainly due to failures to hate LGBT people as much as CNS does. And like its MRC parent, CNS let bygones be bygones and gave this year's gathering relentlessly positive coverage. Coverage kicked off with an anonymously written March 2 piece touting the musings of CNS' boss:
While participating in a panel discussion at the Conservative Political Action Conference on Thursday, Brent Bozell, the founder and president of the Media Research Center (of which CNSNews.com is a part) discussed Don Lemon, the co-host of CNN's "This Morning" program.

The panel was moderated by radio host Larry O'Connor and included Libs of TikTok creator Chaya Raichik and Townhall columnist Kurt Schlichter as well as Bozell.

[...]

"If they believed in market economics, by the way, they would fire everybody on CNN," said Bozell.
A second anonymously written article from that panel quoted other panelists praising Bozell for the MRC's focus on "big tech" and Bozell ranting that those platforms are"censoring speech."
That was followed by a March 3 article by Craig Bannister hyping GOP presidential candidate Nikki Haley ranting about how Chinese companies owning land in the U.S. means taht "enemies own land in our country."
CNS typically takes the weekend off -- an odd thing to do for something that claims to be a "news" operation -- so the next CPAC-related articles didn't appear until March 6. Spencer J. Fairfield hyped former Trump adviser K.T. McFarland's dubious apprach to Russia's invasion of Ukraine: "a negotiation is so much more effective when you've got your arms around the guy's neck."
The big attraction, though, was Donald Trump's speech -- so much so that CNS devoted two articles to it, even though one would have easily sufficed. The first was a stenography piece from Susan JOnes:
In a speech at CPAC on Saturday, former President Donald Trump talked at length about "the forces tearing America down," and -- sounding a familiar theme -- he discussed his plan to "make American great again."

"The agenda I have laid out today will end America's destruction, but it is not enough just to stop the forces tearing America down," Trump said:

"I want, once again, to build America up," Trump said:

[...]

Earlier in his speech, Trump noted that in 2016, he promised to be the "voice" of Americans.

"Today, I add, I am your warrior, I am your justice," he said.

"And for those who have been wronged and betrayed, I am your retribution. I am your retribution. I will totally obliterate the deep state..."
The second was anonymously written but took the same stenographical approach Jones did:
Former President Donald Trump gave a speech at the Conservative Political Action Conference on Saturday, where he described in stark terms what he sees happening in America if those who oppose what conservatives are fighting for succeed.

"If those opposing us succeed, our once beautiful USA will be a failed country that no one will even recognize--a lawless, open borders, crime-ridden, filthy, communist nightmare," said Trump.

"The most important battle in our lives is taking place right now as we speak," said Trump. "For seven years, you and I have been engaged in an epic struggle to rescue our country from the people who hate it and want to absolutely destroy it."

Here is a transcript of the part of Trump's CPAC speech where he said opponents of what conservatives are fighting to achieve for America, this nation will become "a lawless, open borders, crime-ridden, filthy, communist nightmare:"
CNS loves to be Trump's servile stenographer, in stark contrast to its constant nitypicking of President Biden. We've noted how CNS refused to fact-check Trump's 2021 CPAC speech, though a couple weeks earlier it claimed to find "3 errors in 12 seconds" in a speech by Biden a couple weeks earlier.There were fact-checks of this year's Trump speech as well, but CNS wasn't interested.
Another thing you won't find at CNS: any mention of the sexual misconduct lawsuit filed against CPAC leader Matt Schlapp by a male staffer for Herschel Walker's doomed Georgia Senate campaign. Apparently, using CPAC to promote its parent's right-wing agenda meant more to CNS than indulging in the homophobia that previously caused it to trash CPAC (or, you know, behaving like the "news" organization it claims to be and report news).
Posted by Terry K. at 1:48 AM EDT
Updated: Thursday, April 6, 2023 4:34 PM EDT