MRC Dutifully Parrots Right-Wing Anti-ESG Talking Points
Topic: Media Research Center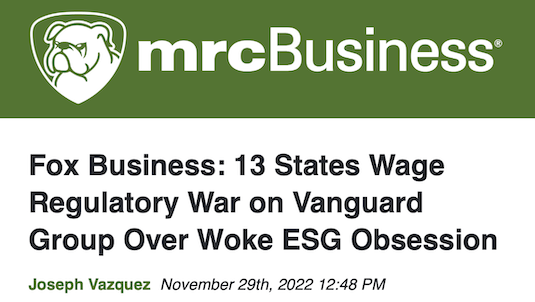 Raging against corporate policies and investing strategies that take environmental, social and governmental issues into consideration is the new hotness in the right-wing media bubble, and like its "news" division CNS, the Media Research Center did as it was told and has been dutifully spouting those anti-ESG talking points for months now, mixing in its pro-Elon Musk and anti-George Soros obsessions where it can. Here's what it cranked out during 2022:
The MRC's NewsBusters blog even republished a few CNS articles (here, here and here) to pad out its own article count for 2022, which would seem to confirm that CNS is not actually a "news" operation, if it ever was.
In a July 2022 article, Clark had a sad that college students care more about ESG-related careers than oil-related ones:
Bloomberg News revealed that U.S. college students are voting with their feet and choosing to enter the woke environmental, social and governance sector over the oil industry.

Some students have become disenchanted with the oil industry and concerned that "fossil fuels may not have much of a future given increasing pressure from politicians, activists and investors to pivot toward more climate-friendly energy sources," Bloomberg News reported in a July 6 article.

A leading cause of the widespread loss of students' faith in the oil industry is the "energy transition" as led by President Joe Biden and otherDemocrats.
A Nov. 29 article by Joseph Vazquez raged at his imagined version of ESG while touting right-wing activism against it:
U.S. states have reportedly had it with leftist behemoth investment companies like Vanguard Group exploiting woke environmental, social and governance standards to overhaul American culture into a leftist dreamscape.

Thirteen Republican attorneys general led by Utah Attorney General Sean Reyes (R) "filed a rare motion Monday" asking the Federal Energy Regulatory Commission "to prevent" Vanguard Group from "purchasing shares of publicly listed utility companies," according to Fox Business.

The reason? The company has a particular obsession for ESG investing. The AGs are reportedly asking "to hold a hearing examining whether Vanguard Group should be given blanket authorization to purchase large quantities of public utility stocks due to its support" for ESGs.

ESGs are wielded to coerce companies to change their corporate policies to abide by a leftist ideological structure on issues such as climate change and gender.
The MRC's ESG obsession in January and February were largely fed by lazy repostings from CNS, mostly written by Craig Bannister:
There was also a CNS reprint touting how the MRC joined "more than a hundred other conservative organizations" in endorsing a resolution "opposing President Joe Biden's new ESG investment rule because it politicizes and threatens the value of Americans' 401Ks."
There were also a couple original articles as well:
The MRC is engaged in political advocacy, not "media research," in parroting right-wing anti-ESG talking points. it should be treated as such.
Posted by Terry K. at 9:51 PM EDT
Updated: Wednesday, March 15, 2023 11:26 PM EDT