MRC Brings Anti-Drag Hate, Misinformation Into The New Year
Topic: Media Research Center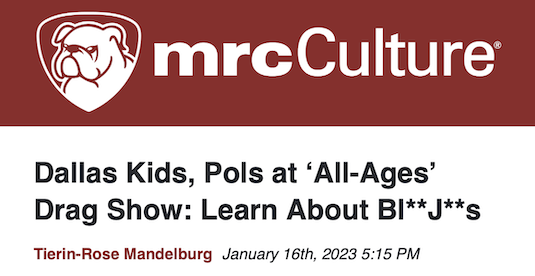 The Media Research Center slipped in a bit more dragphobia at the end of last year. In a Dec. 27 post, Clay Waters gave violence aimed at a bar that hosted a drag night a pass because it purporedly wasn't violent enough:'
A long New York Times Christmas Day editorial, pompously titled "How Americans Can Stand Against Extremism," made a mountain of right-wing intolerance out of one or perhaps two molehills of ideologically motivated vandalism.

Whoever shot the small steel ball through the front window of the Brewmaster's Taproom in Renton, Wash., this month wasn't taking chances. The person wore a mask and removed the front and rear license plates of a silver Chevrolet Cruze. The police still have no leads.

(Well, the Times does want everyone to mask up, again.)

The Times even illustrated its editorial with a picture of the cracked window. The lack of proof that it was a politically motivated attack didn't matter, there was fear to stir up and extrapolations to be made.
Just that like how the MRC must always stif up fear about drag queens?
The MRC's chief transphobe, Teirin-Rose Mandelburg, raged at a comfortable-but-ugly shoemaker for taking part in a drag gathering in a Dec. 30 post:
I knew I made the right choice when I never fell into the "Crocs are back in style" trap that many other young people did in the more recent years.

According to a flyer posted by RuPaul's Drag Con Instagram account, Crocs Europe will be sponsoring a children's fashion show at the 2023 Drag Convention on January 8. The shoe brand once focused on — ya, know — making shoes, but now cares more about pushing progressivism.

And its target audience is our kids.

In the Instagram caption, the announcement read, "Hit them with your catwalk, kids 👠 Bring it to the runway with your parent/guardian for the #DragConUK 2023 Kids Fashion Show, Sunday 8th January on the @crocseurope Main Stage!" It then continued with more specifics for kids to know when and where to go, adding, "No pre-registration required. All kids under 18 are welcome, please report to the Main Stage at 12:45PM to participate 💓"

Any parent who would allow their kid to attend an event like this is partaking in what I call "child abuse." Not to mention the parents that bring their kid to participate in drag gear for the event.

Shame on them.
Mandelburg unsurprisingly threw the "groomer" slur around as well:
It really is disturbing that RuPaul's drag team thinks kids should be not only invited to but encouraged to participate in an event that undoubtedly will be oversexualized and inappropriate for their innocent eyes. It's also disturbing that companies and groups that used to be great for kids are joining in on the pro-grooming crusade.
Several days later, Mandelburg cheered that her hateful mob had the desired effect:
Crocs has holes in its shoes and now in its story too.

At the end of December, the billion-dollar shoe brand, Crocs, announced its sponsorship of a kids drag fashion show for the RuPaul's Drag Convention in London this past weekend. After ample backlash condemning the grooming behavior of the company, Crocs Europe silently deleted all signs of sponsorship.

Did they think we wouldn't notice?

[...]

While Crocs likely caved to the ample and justified backlash, Teletubbies, another sponsor of the event, maintained it's position.
Of course, she would never refer to her manufactured "backlash" as a mob effect, even though her employer loves to refer to any group of people advocating for liberal views as a "mob."
Mandelburg used a Jan. 16 post to rage at a drag event in Texas:
These people need Jesus.

An "all-ages" drag show event in Dallas had a great audience turnout, including local legislators, parents and children, according to Taylor Hansen of the Texas Family Project.

The event opened with audio that condemned "far-right" protesters who think that drag queens shouldn't interact with children. Yeah … those crazy right-wingers …

[...]

Councilmen Jesse Moreno and Paul Ridley were in attendance as well as State Representative Venton Jones. The three gave speeches while drag queens stood in solidarity and the audience roared.

Moreno's speech thanked the audience for the attendance and claimed that "there is no place for hate in the city of Dallas." He declared it his purpose to "educate" on "basic human rights" and "dignity" which apparently include the "right" to groom kids by bringing them to a drag show.

As for dignity, it's a drag show.
But Mandelburg is dishonestly portraying the show in question. As an actual news organization reported about the manufactured outrage, which took place at a weekly "drag brunch" at a bar, it was never advertised as an "all ages" drag show -- right-wing activists maliciously portrayed it as such because children were never explicitly prohibited, and the only children at the event in question were brought by a parent to watch the protest:
Had it not been for a group named Protect Texas Kids, there may not have been any kids at a recent drag brunch in Dallas that drew protesters yelling slurs and threatening violence.

Ahead of the Jan. 14 event, the anti-LGBTQ organization Protect Texas Kids began posting online about the weekly drag brunch at BuzzBrews, suggesting that, because the neighborhood restaurant did not explicitly ban children, organizers were catering to children and, thus, grooming them for sex.

Threats and harassment ensued. The bar owners were accused of pedophilia. A protest was organized. And Veronica Olivo, a friend of one of the drag performers, decided to go in solidarity with her two preteens as a form of counterprotest.

"I told them that we were going to an art performance where the guys dress up like girls, and that you might hear some dirty jokes," she said with a laugh. "They were like, 'Well, you do that at home anyway.'"

They were the only kids at the show.

Outside, outraged protesters called their mom and other patrons "child groomers" and "pedophiles" — with little appreciation for the irony that their protest was the only reason kids were inside.
The news outlet pointed out how Hansen play ed a key role in manufacturing anti-drag hate:
Hansen has been increasingly influential in conservative spaces, and his work has often prompted harassment of drag events and local businesses, including a drag brunch at Roanoke's Anderson Distillery and Grill that drew white supremacists and a cascade of threats online.
So Mandelburg has unhinged hatred toward people who are different from her and is willing to lie and mislead in order to portray them as negatively as possible. (And this is the second time this year we've caught her spreading misinformation for her hateful cause.) Sounds like she's the one who really needs Jesus.
Posted by Terry K. at 11:26 PM EDT
Updated: Monday, April 3, 2023 11:36 PM EDT