WND Exploits Damar Hamiln For Both Prayer And Conspiracy Theories
Topic: WorldNetDaily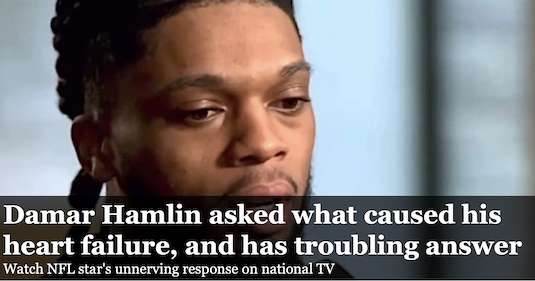 After NFL player Damar Hamlin collapsed during a game, WorldNetDaily's first reaction to it was to build an evidence-free conspiracy theory that a COVID vaccine caused it. But it also exploited the incident for another cause: promoting prayer. It published a couple outside articles noting the prayer, and WND columnists got in on the action as well to hitch it to their own agendas. Bob Just wrote in his Jan. 4 column:
Most of the country, young and old, started seeing those video clips of the whole Buffalo team kneeling at midfield to pray for Damar Hamlin, the Bills' 24-year-old safety. Of course, millions of Americans had watched live as this moment of faith unfolded.

America started praying. Even an on-air ESPN host stopped to pray with his media colleagues. Important things became very clear, and the unimportant disappeared.

Along with the images of men kneeling in prayer, I was touched by seeing a black player (Tre'Davious White) hugging a white player (Mitch Morse), both grieving for their young teammate, now with his whole future in question, not to mention his life.

Different images from earlier NFL games came to mind – pictures of a different kind of kneeling, players "taking a knee" in angry protest. For many Americans this only made the anger worse, the pain deeper and racial division wider.
Actually, taking a knee was not an "angry protest" -- it was a silent one designed to make a statement about the way non-white people have been treated in this country. If such a silent protest made "racial division wider," it's likely because there's still more reckoning to do. he then turned to claim that the prayers for Hamlin were a racial unifier:
In fact, we don't see the best example of "antiracism" right in front of us – Christians of all races and ethnicities doing what they do every day, working together to improve their communities, whether making up Christmas boxes of food for needy families or just doing their best to love their neighbors and be responsible citizens.

The impact of millions of Christians from all walks of life – and of every race – working and praying together is America's best kept secret, thanks to the media. But now more than ever we need inspiring examples of racial harmony. They are everywhere if we'd only look.
Michael Brown glommed onto to the incident as well in his Jan. 9 column:
Around the nation, in response to the life-threatening injury to Buffalo Bills football player Damar Hamlin, people prayed. Hamlin's teammates and coaches prayed. Millions of fans joined in prayer, tweeting their support. Even on live TV, sports commentators stopped in the middle of their broadcast to pray.

But this is only natural. During times of crisis, especially life and death crisis, people turn to God.

We know the situation is grave, we know we cannot change things ourselves, and we know that only God – an all-powerful being who cares – can turn the tide.

That's why, at such times, people do not turn to atheism. They turn to God.
Two days later, Brown called for exploiting the tragedy for evangelism purposes (while of course denying he's being trying to do that):
All this is good and positive, and in many ways, this could be just the beginning of a beautiful redemptive story.

But there are certainly more things we should be praying for when it comes to Hamlin and the NFL, specifically, the spiritual condition of the men and women who are praying and talking about faith.

Do they all know the Lord personally and intimately? Have they been transformed by His love and grace? Are they followers of Jesus or simply people who recognize that, in times of crisis, we need to look to God?

To be clear, I do not ask these questions in a critical or condemning way. That's the last thought on my mind.

[...]

May the open show of spirituality that has suddenly emerged across the country, receiving widespread praise rather than criticism, continue to grow until millions have come to know Jesus for themselves.
Other WND columnnists like Jane Orient and Wayne Allyn Root were content spreading uninformed COVID vaccine conspiracy theories about Hamliln.
Bob Unruh wrote a Jan. 31 article touting Hamlin's recovery to exploit prayer:
Buffalo Bills football player Damar Hamlin suffered cardiac arrest on live television a few weeks ago. Emergency services responded, he was hospitalized and he's recovering.

There were many people who openly called for prayer for him.

Now, a Western Journal report has revealed he credits God for "using him as a vessel" during that process.

[...]

Now there's a new poll that shows two-thirds of the survey's respondents said public calls for prayer are effective.

The polling, by Summit.org, in partnership with McLaughlin and Associates, surveyed 1,000 likely general election voters Jan. 19-23.

"This poll reveals that public calls to prayer after Damar Hamlin's collapse from cardiac arrest on national television and through his miraculous healing have, at least for the moment, brought Americans together across the partisan divide," explained Jeff Myers, president of Summit.org.

"Prominent members of the NFL community and sports commentators were led to publicly pray for Damar, and that resonated with the vast majority of Americans."
Unruh reverted to conspiracy-theory form, however, in a Feb. 14 article framing a Hamlin non-answer about what he thinks the cause of his cardiac arrest was as proof it was caused by a COVID vaccine:
On the critical question of what caused his cardiac arrest, however, he was silent.

Asked by Strahan, Hamlin responded with a loooong pause.

"Uhm."

Then another looong pause.

"Uhm."

Eventually, he says, "That's something I want to stay away from."

Of course, multitudes of young and athletic men and boys across America have been reporting heart issues – and some have been dying – after they have taken the experimental COVID-19 shots that have been linked to myocarditis, and other heart ailments.

Newsweek reported his interview "provoked a flurry of new conspiracy theories on social media as to whether the COVID-19 vaccine was to blame for Hamlin's collapse and medical attention."

"It's quite clear that the reason Damar Hamlin won't disclose what nearly killed him is because what nearly killed him was the COVID-19 vaccine," tweeted One America News Network host Addison Smith.
Needless to say, Unruh did not back up his claim that "multitudes" of "young and athletic men and boys" have heart issues from COVID vaccines.
Posted by Terry K. at 6:25 PM EDT
Updated: Thursday, March 16, 2023 7:34 PM EDT