WND Writers Freak Out Over 'Liberal World Order' Reference They Don't Understand
Topic: WorldNetDaily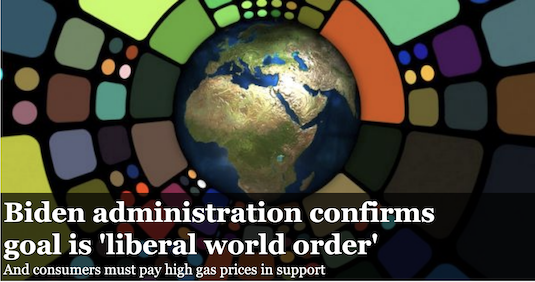 Bob Unruh wrote ominously in a July 1 WorldNetDaily article:
Perhaps the "New World Order," a phrase that has been use previously, many times negatively, has too much baggage.

Or perhaps there's another reason.

But a Biden administration official has just confirmed that Americans will have to keep paying those nearly $5 a gallon prices for gasoline because that's what's needed right now for the "Liberal World Order."

The comment came during a CNN appearance by Biden adviser Brian Deese.

He said, "This is about the future of the liberal world order and we have to stand firm."

His response was to a question about what to tell Americans facing those massively inflated gasoline prices under Biden's policies, where the cost of a tank of gasoline can easily surpass $100.
Unruh didn't mention that WND has beenone of the places where the phrase "New World Order" has been used "negatively." More importantly: While "New World Order" is a code word for right-wing conspikracy theories (hence its aggressive usage by the conspiracy theorists at WND), "liberal world order" means something else entirely and is not interchangable. As FactCheck.org explained in debunking the bogus spin peddled by Unruh and other right-wingers:
The term "liberal world order," also referred to as the "liberal international order," has been in use since at least the end of World War II when "countries sought to ensure the world never again devolved into such horrific violence," according to the Council on Foreign Relations.

[...]

The term has been used by Biden on at least two occasions as president, but it also has been referenced by Republican presidents.

Some drop the word "liberal" and just say "world order," as former President Richard Nixon did in 1969 in a message to Congress about foreign aid. "U.S. assistance is essential to express and achieve our national goals in the international community — a world order of peace and justice," Nixon said.

[...]

An April 2020 paper titled "The Rise of the Liberal World Order," written by Samantha A. Taylor for the U.S. Army War College website, explained how the rise of the United States is tied to the creation of the liberal world order.

"[T]he rise of the liberal world order is connected to the rise of the United States in the international system. This development occurred in three phases. The first phase occurred between 1917 and 1945, during which the United States emerged as a world power," wrote Taylor, a visiting professor at the college. "The second phase from 1945 to 1991 occurred as the United States stood as one of two superpowers. The third phase began in 1991 and continues to today, where the United States stands as the world's sole superpower and supporter of the liberal world order."

But that context is ignored in social media posts that misleadingly suggest Biden is pushing a "new liberal world order" to make Americans pay "high gas prices forever."
But as we all know, WND refuses to let the truth interfere with a reasonably clickbait-y right-wing narrative.Andy Schlafly huffed in his July 5 WND column:
"This is about the future of the liberal world order and we have to stand firm," declared Biden administration official Brian Deese.

That was the administration's answer to the question posed by CNN: "What do you say to those families who say, 'Listen, we can't afford to pay $4.85 a gallon for months, if not years. This is just not sustainable'?"

"Liberal world order" is apparently what globalists meant all along when they spoke of a "new world order" and a "new normal."

Klaus Schwab, founder of the World Economic Forum in Davos, Switzerland, uses the "Great Reset" to refer to the globalist vision for the future. The elite met there again in May to reassert their control over politics worldwide.

[...]

Also called the "liberal international order," globalists insist on a system in which all the important decisions are made by phony experts who set norms of conduct without input or rejection by citizens of individual nation-states. The views of American voters are irrelevant under this scheme, as voters are then told we are bound by treaties and must participate in foreign wars.

[...]

The cat is out of the bag: Higher gas prices are due to Democrats' insistence on a liberal world order. No thanks to that.
Brent Smith used his July 8 WND column to manufacture a conspiracy theory about the guy who said the phrase:
Yet it would seem we have another player, or players, in the running as Biden's "shadow president."

His name is Brian Deese. You're probably saying to yourself – wait, I know that name. And if you've been paying attention, you would. He was the guy who last week on CNN exclaimed, "Americans should 'stand firm' on paying record-high gas prices because the 'future of the liberal world order' is more important."

I don't know about you, but to me that's an odd thing for Biden's director of the National Economic Council to say. Sounds more like something that Bond villain and WEF head Klaus Schwab would say.

[...]

And this is why, in 2020, immediately after the presidential election, Deese left BlackRock to join the Biden administration. But did he ever really leave BlackRock? More likely, in the opinion of Rucker and me, he is the BlackRock insider that may be running the show from inside the White House.

And I don't think it's being done covertly. I think he was invited in to help usher in the Great Reset and the New World Order, or as Deese describes it: the Liberal World Order. And he/they are happy to use us and ruin the greatest nation on Earth to do so.

The question that could then be asked: Is it Deese running the show, or does he take marching orders from others at BlackRock? Who knows, for now.
Note that both Schlafly and Smith drop the name of Klaus Schwab, who is apparently the heir apparent to George Soros on the right-wing world-controlling conspiracy front.
Posted by Terry K. at 1:53 PM EDT
Updated: Saturday, September 24, 2022 9:56 PM EDT