MRC Mad White House Won't Adhere To Its Definition Of A Recession
Topic: Media Research Center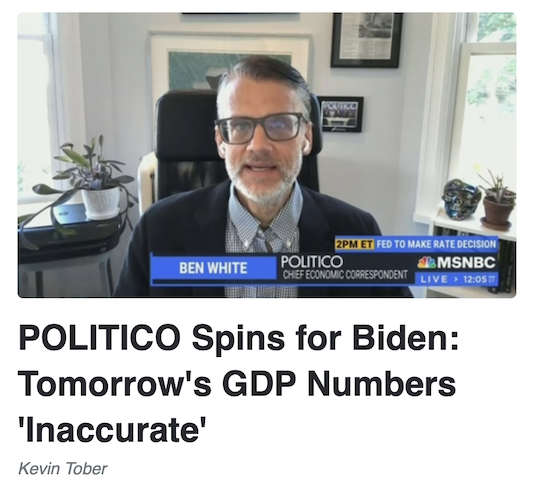 As far as the Media Research Center is concerned, there is only one possible defintion of a recession -- when GDP does not increase in two consecutive quarters -- and anyone who does not adhere to that definition must be attacked as liars (if the president under whom those numbers occur is a Democrat, at least). When it was suggested that might happen for the second quarter of this year, the MRC was extremely quick to scream "RECESSION!" and, yes, attack anyone who wanted to look at all economic indicators instead of a single number. Bill D'Agostino started spinning with old quotes in a July 25 post:
On July 21 the White House published a document on its official blog attempting to redefine an economic recession, to exclude the widely accepted criteria of two consecutive quarters of GDP contraction. This vague new "definition" came at an extremely convenient time for President Biden's economic advisors, considering all signs point to the country having just experienced its second quarter in a row of negative growth (pending a report coming this Thursday).

But for years, journalists and experts alike have argued in favor of the definition which the Biden administration has just tried to undo: that at least two straight quarters of negative GDP growth means the country is in a recession.
The document in question called for "a holistic look at the data" that would show that two quarters of negative GDP would not necessarily indicate a recession; D'Agostino didn't explain why the White House is wrong about that, or why GDP is the only possible measurement.
Indeed, this commonsense examination -- especially needed since that COVID-induced economic downturn and the recovery from it is not like a normal economy where normal rules and definitions apply -- became a right-wing attack point. Scott Whitlock ranted: "Monday morning saw the news that the Biden administration is trying to change the definition of a 'recession.' It seems as though CBS Mornings on Monday got a jump on the official government talking points. Reporter Ramy Inocencio focused on the upside to inflation, high gas prices, and a struggling economy: Cheap gelatos, croissants, and espressos over in Europe." Kevin Tober repeated the authorized spin from Fox News and complained that non-right-wing channels weren't following it:
On Sunday, Fox News White House correspondent Jacqui Heinrich took to Twitter to note how the Biden administration and the Council of Economic Advisers are seeking to redefine what a recession is. In reality, a recession is defined by two consecutive quarters of negative economic growth. Concerned that this week's GDP report will show the second straight quarter of negative growth, the White House published a blog on their website in an attempt to gaslight Americans into believing we won't be in a recession if we have another negative quarter.

"Bracing for impact: Even if Thursday's GDP report shows a second consecutive quarter of negative growth, you won't hear the Biden admin using the R-word. The Council of Economic Advisers is redefining what a recession is…" Heinrich said on Twitter.

Despite Heinrich and her network doing their best to keep the Biden administration honest, the evening network newscasts had no interest in calling attention to the White House's gaslighting.
The MRC kept on spinning and talking down the economy over the next couple days:
All of this, by the way, came berfore the second-quarter GDP numbers came out -- which means the MRC was merely spinning and shouting. At no point did any writer explain why GDP is the only possible indicator that can be considered or why other economic numbers cannot be taken into consideration.
Alex Christy spent a July 27 post attacking MSNBC's Stephanie Ruhle for pointing out the obvious fact that the post-COVID economy is not following normal economic rules:
After spending Monday praising the Biden economy as the country barrels towards a possible recession, MSNBC's Stephanie Ruhle used Tuesday's The 11th Hour to say to conservatives that miss the Trump economy, that things were not that good under the prior administration, even without the pandemic.

[...]

This apparent change of tune from Monday doesn't mean things are all bad, "But it doesn't mean it's a full blown recession. Why? Because there's other things. There is good news. We got low unemployment. Steady job growth. And a high rate of savings. The economy is not all good, the economy is not all bad. But we have in this giant country of ours is a complicated economy. And that's the truth."

It is going to be hard to spin changing the definition of a recession and two consecutive quarters of GDP loss as "complicated," but Ruhle will no doubt attempt to do that when the numbers are officially released.
And the MRC will continue to scream "RECESSION!" and refuse to consider other numbers.
Posted by Terry K. at 5:45 PM EDT
Updated: Wednesday, September 14, 2022 7:52 PM EDT