MRC Whines That Interviews With Hunter Biden's Ex-Wife Weren't Sleazy Enough
Topic: Media Research Center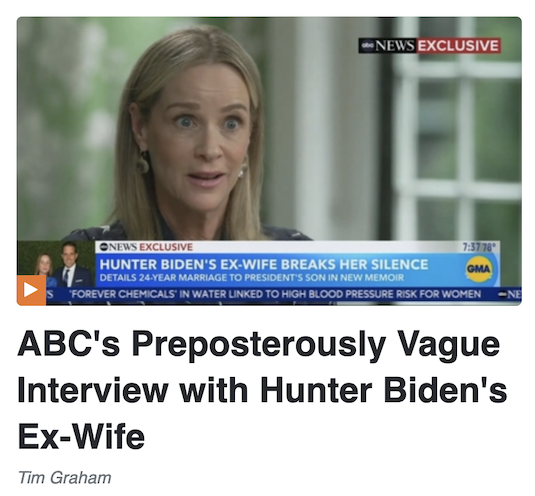 You don't have to be Hunter Biden to be obsessively attacked by the Media Research Center. Merely having the Biden name will do. A June 1 post by Scott Whitlock tried to attack the president's brother:
If you thought that Hunter Biden was the only First Family member with disturbing financial dealings and foreign connections, you would be wrong. But you could also be forgiven for not knowing about James Biden, brother to the President. Just like his son Hunter, the networks have mostly failed to ask questions about this sibling.

James Biden has concerning associations with Chinese businesses linked to the country's Communist Party. But even though Joe Biden announced his presidential run back on April 25, 2019, it wasn't until April 2022 when CBS realized there might be some questionable connections.

Until then, CBS was silent on James Biden. ABC and NBC still have failed to investigate him. On April 6 and 7, 2022, the CBS Evening News and CBS Mornings< devoted a combined five minutes and 51 seconds to James. That's the network total in more than three years.

[...]

When will the networks start investigating James Biden? Hunter Biden? Their connection to Joe Biden? When Donald Trump was president, journalists saw it as their job to speak truth to power, to make sure democracy didn't die in darkness. But with the ethically-challenged Biden family, no journalistic skepticism is allowed.

It's time for ABC, CBS and NBC to do their jobs. Fully investigate all questionable Biden family members and all their connections.
By contrast, when Donald Trump's sister Mary Trump came forward to make credible charges about Donald's dealings with his family, the MRC tried (and failed) to discredit her. In other words, it doesn't always consider presidential siblings to be important.
The MRC even lashed out at Hunter Biden's ex-wife not hating him to the extent it (and the rest of the right-wing media bubble that's equally and bizarrely obsessed with Hunter). Tim Graham whined in a June 14 post that an interview with the ex wasn't salacious enough forthe demands of right-wing media (and perhaps his own personal proclivities):
ABC's Good Morning America put Hunter Biden into the news – a rare event – with an interview with his ex-wife Kathleen Buhle, who has a new memoir out on their turbulent life together.

The interviewer was Amy Robach, and the questions were preposterously vague, and the answers look carefully curated. The infamous laptop came up, for just seconds. In laptop videos, Hunter was doing drugs and making porn with prostitutes, and Robach just said he was "looking disheveled"?

[...]

If this sounds like someone trying to stay in the First Family, you should know her daughter Naomi has a White House wedding coming up. In an almost seven-minute interview, it took them more than four minutes to get to Hunter cheating with his brother Beau's widow, Hallie.
Curtis Houck similarly demanded more porn and sleaze in a June 16 post:
Two days after ABC's Good Morning America and co-host Amy Robach aired what our Tim Graham called an interview with Hunter Biden's ex-wife Kathleen Buhle featuring "preposterously vague" questions and "carefully curated" answers, Thursday's CBS Mornings sunk lower in ignoring topics such as Hunter's infamous laptop and his alleged child out of wedlock.

Instead, Mason — who, like Robach, previously interviewed Hunter — focused on Hunter's spiraling after his brother Beau's death, his affair with said brother's widow, and vague discussions about Hunter's "finances." Worse yet, co-host Tony Dokoupil falsely claimed that Hunter's "become a frequent headline in the news."

[...]

The closet Mason and Buhle got to Hunter's life of corruption was her insistence she was in the dark on the family's finances and, while she wasn't subpoenaed or called before the grand jury as part of the U.S. Attorney in Delaware's probe, she "talked to certain investigators"
In the promotion for his June 17 podcast, Graham whined further that his sleaze demands weren't satiated by the interviews with Buhle:
Excerpts from a new memoir from Kathleen Buhle, Hunter Biden's ex-wife, were posted by People magazine on June 1, but ABC and CBS didn't air their softball interviews with Kathleen until this week.

Hunter's still mostly getting off the hook. Kathleen insists she knew nothing about the mysterious family finances, and that she's make a terrible witness for the federal investigation of Hunter going on right now.

Both ABC and CBS eventually raised the embarrassing revelation that Hunter cheated on Kathleen not just with a conga line of prostitutes, but even with his brother Beau's widow, Hallie. Joe and Jill Biden even put out a statement of support for Hunter and Hallie's affair. How weird is that?
Not as weird as Graham demanding constant mention of porn every time Hunter's name comes up. Is there something Tim needs to share with the class?
Graham spent a June 18 post being mad at the Washington Post for pointing that Buhle's book is seemingly for right-wing Hunter obsessives like himself though it lacks the dirt people like him have been demanding, and as usual, he has nothing but whataboutism to offer in return:
On Friday, The Washington Post published a book review of Kathleen Buhle's memoir about being married to Hunter Biden. But Post writer Karen Heller didn't like the book -- or the audience she thinks is interested in it.

She warned "And obsessive Hunter gatherers out there, be warned, the book contains nary a mention of the Ukrainian energy company Burisma or the infamous laptop left at the Delaware repair shop."

[...]

So Kathleen is a sap. She's so dumb she can't even see Hunter cheated with his brother's widow, and that is recounted in the awful anti-Biden press. "The affair goes public in the New York Post, the tabloid that will turn Hunter's lobbying exploits and role as a Burisma board member into something of a full-time beat."

There's zero shame that ahem, The Washington Post has made the Trump family's finances a full-time beat.
Graham then huffed that it is "a very partisan question" for the reviewer to ponder if Buhle's tome is "really a book the public is asking to read." For sleaze-hunters like Graham, it clearly was -- though he went on to attack Lena Dunham's memoir from way back in 2014.
Posted by Terry K. at 9:20 PM EDT