MRC Keeps Up Defense And Deflection Over Mar-a-Lago Raid
Topic: Media Research Center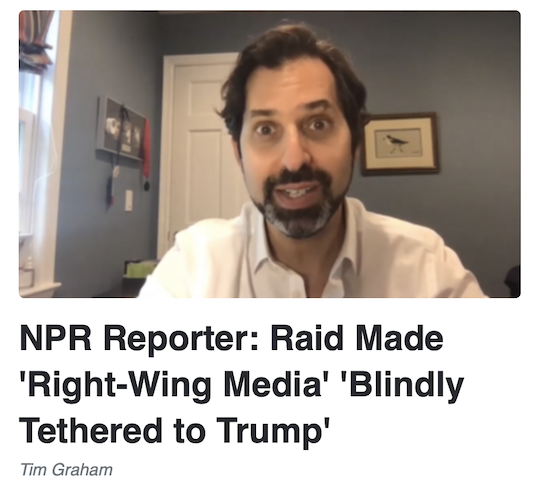 The Media Research Center's reaction to the FBI search of Donald Trump's Mar-a-Lago compound was slow to start, but it continued to find ways to defend him and attack critics. An Aug. 10 post by Alex Christy cheering a right-winger spouting anti-FBI talking points at CNN's S.E. Cupp, who was pointing out that the raid showed the justice system working well, going on to add some talking points of his own: "Cupp and the rest of the media just don't get it. If Trump were to be treated the same way as Hillary Clinton the raid would never have happened. Such double standards do raise questions that should not be dismissed as 'MAGA World talking points.'"
Another Aug. 10 post by Aidan Moorehouse complained that CNN commentators "were bemused why so many conservatives had such a negative reaction to the FBI's raid on Mar-a-Lago, despite the news that the Bureau had foiled a plot by Iran's Revolutionary Guard to assassinate former National Security Adviser John Bolton":
Impeccable logic: if an organization does something well, that means it is functioning perfectly in every circumstance and incapable of having parts in need of reform.

After all, this is the FBI we're talking about. It's not like this law enforcement agency has ever fabricated evidence to gain a FISA warrant against Carter Page, or collaborated with the media to achieve maximum shock effect, or changed the words "grossly negligent" to "extremely careless" to avoid charging Hillary Clinton with a crime.
Moorehouse then threw in a little Clinton Equivocation for good measure:
While it is possible that Trump did something wrong in these situations he's currently being investigated for, the fact that Trump was raided by the FBI for what appears to be the potential mishandling of classified documents, while Clinton got away scot-free despite 30,000 of her emails being bleached from the face of the earth, ought to tell people like [Alyssa Farah] Griffin why Republicans are so wary of this latest investigation.
Tim Graham ranted on his Aug. 10 podcast that the raid is causing people to think Trump might be a bad person:
Biden's Attorney General approved an unprecedented raid on a former president's home, and we still don't know why. The newscasts are mostly calm, but not so for the Colberts and Scarboroughs. Colbert thinks it's Christmas, and Scarborough thinks the Fascists are having a Fascist fit.

Some on the Left smelled hypocrisy from the "Lock Her Up" folks on Hillary's deleted government emails. A truly objective media would apply a single standard to these issues of government documents. A truly objective media might also have a distaste for partisans suggesting the other party's leaders should be in prison.

This is a fact. We have no precedent for a former president being raided by the FBI. We have no precedent for an attorney general whose Supreme Court nomination was ruined by the former president signing off on such a raid. We can easily predict how furiously the liberal media would have reacted if Trump's Attorney General approved an FBI raid on the Clinton house in Chappaqua.

But in this case, we heard Andrea Mitchell condemn House GOP leader Kevin McCarthy for daring to speak ill of Merrick Garland. "Merrick Garland is the most careful, judicious to a fault some would say, you know, attorney general in this case."
A post by Mark Finkelstein complain that a CNN commentator "opined that there was more involved in the Mar-a-Lago raid than looking for evidence regarding classified documents. He suggested that the FBI was also looking for evidence of Trump's involvement with January 6th," and made the "bombshell prognostication" that Trump's arrest was "imminent," while the host "seemed to be insinuating the possibility that the FBI wanted to seize certain documents of a sensitive national-security nature before, e.g., Trump could peddle them to a hostile foreign power!" Finkelstein huffed that the host "offered no evidence in support of his audacious theory" -- but part of it eventually proved true.
In an Aug. 11 post, Margaret Buckley omitted context about a comment MSNBC's Joe Scarborough made while criticizing Republicans for their lemming-like defense of Trump:
Host Joe Scarborough pretended he is interested in helping the fate of the Republican Party, despite having publicly left it years ago. He insisted that GOP candidates are "underperforming" in special elections.

"They just can't seem to connect the dots," Scarborough states, "they keep careening closer and closer to a cliff of political oblivion." He furthered his "analysis" by immaturely exclaiming this on national television: "They're going 'This is war, this is war! Let's tan our testicles!'" Real professional, Joe.
Actually, Buckley need to bring up those professionalism issues with Fox News' Tucker Carlson, who brought up the whole testicle-tanning thing in a special edition of his show a few months ago, positively portraying it as a way to improve one's testosterone levels.
Graham returned for an Aug. 11 post whining that NPR media reporter David Folkenflik pointed out how Republicans and right-wing media (like Graham's MRC) can't stop clinging to Trump. Instead of actually disproving it -- because he clearly can't -- Graham played his usual whataboutism:
It's amazing how credulous liberal journalists can be in assuming the Attorney General told no one in the White House he was going to approve a raid on Trump. Folkenflik would never assume Rupert Murdoch didn't know what was going on in his companies. As for apocalyptic terms, Folkenflik should look at NPR promoting Republicans as a "proto-authoritarian cult."
Graham linked back to a 2020 post he wrote attacking Folkenflik over that statement. He played whataboutism then too.
Finkelstein also returned, this time to complain about the"absolute ecstasy today over Donald Trump's potential legal woes" on "Morning Joe," whining further that "Mika and Joe amused themselves by repeatedly mentioning the many times that Trump invoked the Fifth Amendment during his deposition yesterday with lawyers for New York State Attorney General Letitia James."
Graham's Aug. 12 podcast whined again about Garland not being savaged by non-right-wing media the way he is in Graham's right-wing media bubble:
Attorney General Merrick Garland kept reporters and TV networks waiting (and filling air time) for more than a half-hour before he came out and made a brief statement and took no questions from reporters. It was not a demonstration of transparency after this unprecedented step of the FBI raiding the home of a former president like he was a criminal.

The networks tried to present Garland as reasonable and nonpartisan -- insisting of course, he must have a good reason for this raid. Then an ABC reporter turned to frighten the public with neo-Nazis ripping Garland on message boards -- he's Jewish -- and seemingly associated all Garland's critics with the worst extremists.
Finkelstein served up anotherwhining post on Aug. 13, this one about a discussion of a Washington Post claiming nuclear-related documents were among the classified documents seized at Mar-a-Lago:
So the Washington Post, which broke the story, doesn't know what those documents are, or just how classified they might or might not be. It certainly can't say whether the FBI found what their anonymous sources were claiming as justification for this unprecedented don't-call-it-a-raid.
Finkelstein didn't mention that there is no reason for Trump to be possessing sensitive government documents, classified or not, now that is no longer president.
Posted by Terry K. at 9:03 PM EDT
Updated: Thursday, September 22, 2022 11:06 PM EDT