The MRC's Hypocrisy On Corporate Whoring Continues
Topic: Media Research Center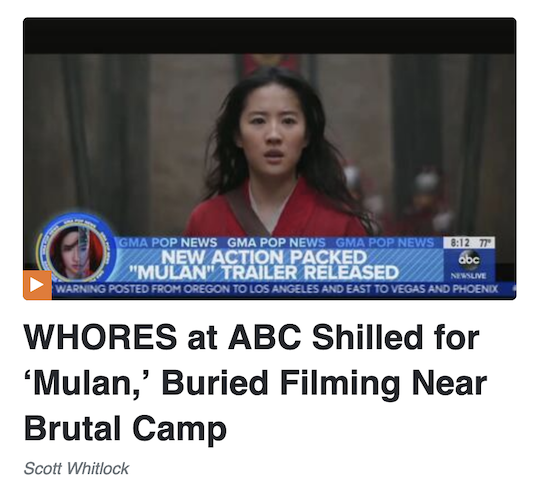 Scott Whitlock rehashed old, hateful grievances in a Feb. 5 post, headlined "Network Whores at ABC Shilled for 'Mulan,' Buried Filming Near Brutal Chinese Camp
The China Olympics kicked off on Friday night under the shadow of the country's brutal regime sentencing Uyghur minorities to prison terms featuring torture and sexual abuse.

Yet, as NewsBusters reported on Tuesday, the networks only allowed 13 minutes in one year. For NBC, the network televising the Olympics, there was only 742 seconds. (They've tried to make up for a year of non-coverage by doing a lot more in the last few days.)

But NBC isn't the only morally compromised network. ABC allowed just 23 seconds from January 31, 2021 to January 31 2022. And the journalists at that network have repeatedly sold out to their corporate overlords, burying the news of a prison camp Mulan filmed nearby and it might harm the movie's release.

In September of 2020, ABC's Good Morning America aggressively promoted the live action version of Mulan. The network repeatedly hyped its debut on Disney+. Yet, when ugly news broke that the movie filmed near brutal Chinese concentration camps, ABC censored the story.

[...]

Instead of exposing this, ABC whored out the news division for Disney+.
Whitlock didn't mention that his employer has no problem whoring out its "news" division, CNSNews.com, for corporate purposes. We've documented how the MRC's various operations have been whored out to promote Brent Bozell's new memoir. And just four days before Whitlock wrote his post, CNS was whored out in the form of CNS editor Terry Jeffrey doing an extremely softball interview with Bozell to promote the book.
Whitlock's complaint might have some gravitas if he wasn't complaining about the exact same thing his employer does.
Posted by Terry K. at 2:03 PM EDT