CNS Managing Editor Wanted U.S. To Capiutlate to Putin
Topic: CNSNews.com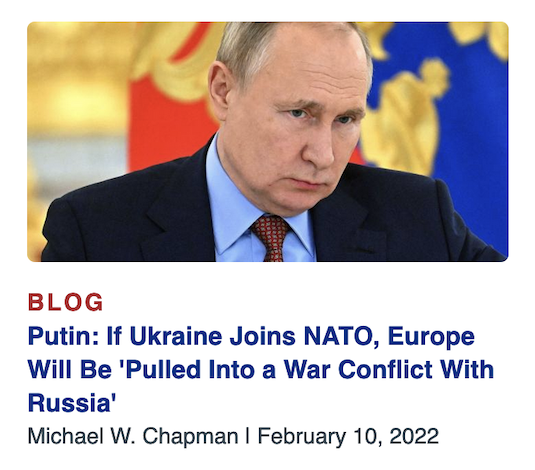 CNSNews.com has a bad habit of being a supporter of Russia's Vladimir Putin -- especially when he trashes its designated enemies: President Biden, "big tech" and "woke" culture. So it's not a surprise that CNS managing editor took Putin's side in the Ukraine conflict, effectively agreeing to Putin's demand that Ukraine be barred from NATO, in an uncritical Feb. 10 article:
In a speech on Monday in Moscow, following diplomatic talks with French President Emmanuel Macron, Russian President Vladimir Putin stressed that if Ukraine joins NATO and tries to retake the Crimea, Europe "will be automatically pulled into a war conflict with Russia."

If NATO executes Article 5 of its charter, which calls for the collective defense of its members, "you won't even have time to blink your eye," said Putin. "There will be no winners."
Lest it not be apparent that Chapman was siding with Putin here, he went on to write of others endorsing Putin's idea:
NATO, or the North Atlantic Treaty Organization, was established in 1949 primarily to provide collective security to Europe against possible invasion by the Soviet Union. The USSR collapsed in 1991, and all Soviet troops were removed from Eastern Europe.

Commenting on NATO, Cato Institute scholar Doug Bandow said, "Russia is no Soviet Union. Vladimir Putin is no Joseph Stalin. The Russian Federation is an unpleasant actor but has reverted to a pre‐​1914 great power, insisting on border security and international respect. There is no prospect of a Russian attack on the U.S. and little more chance of one on Europe, Old or New. Although plausible, even a successful grab of the Baltic States would yield little benefit for much cost."

Conservative commentator Pat Buchanan commented last week, "Is the territorial integrity of Ukraine a cause worth America's fighting a war with Russia? No, it is not."

When NATO was created, there were 12 member countries. Today, there are 30.
Bandow is one of the Putin capitulators CNS has published; he argued in a Jan. 27 CNS column that "Nothing suggests that Putin wants what can never be given. Buchanan, of course, is a longtime Putin capitulator who has a spot on CNS' commentary page because CNS editor Terry Jeffrey ran his presidential campaigns in the 1990s.
CNS' pre-invasion demands for Biden to capituate to Putin are not aging well.
Posted by Terry K. at 5:27 PM EST