The MRC's Year Of Being Triggered By Lil Nas X
Topic: Media Research Center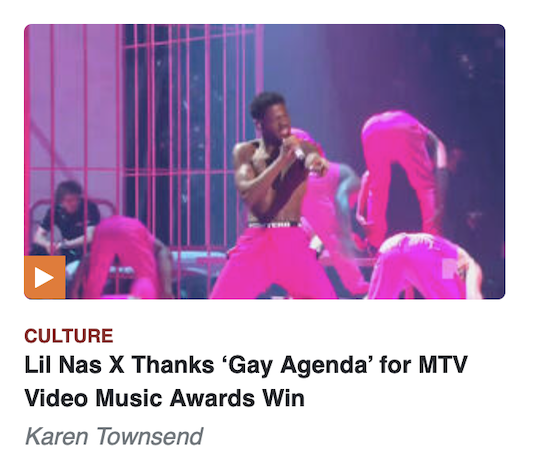 The Media Research Center -- always a hater of all things LGBT -- spent a good part of 2021 being triggered by things that rapper Lil Nas X did (which showed that Lil Nas X knew what he was doing). Veronica Hays kicked things off in a March 26 post with a meltdown over the "optics of heinous gay stuff" in Lil Nas X's latest video:
Lil Nas X's latest music video is an abomination that may have just prompted the coming of the next extinction age of humanity. Prepare accordingly.

Rapper Lil Nas X -- real name is Montero Hill -- released the highly-anticipated music video for his most recent self-titled single "Montero (Call Me by Your Name)", on Friday March 26. Nas' creation consists of surreal and provocative visuals that include a stripper-pole extending from heaven to hell, and a gay lap dance with the devil.

[...]

The pornographic take on the Christian themes present are twisted blasphemy that brainwashed libs on twitter are greeting with an "outpouring of love and support." The Root calls it a "gorgeous video" and applauds Nas' vulnerability and courage for unapologetically showcasing his authentic self. It is sad that as we approach Holy Week and Easter, the holiest time of the year for Christians throughout the world, he drops this piece of trash to peddle deviant smut to the masses.

Nas embodies the left's progressive fantasy: a flamboyant and young black man, overtly homosexual, highly favored among the masses, and who acts as a mouthpiece for their poisonous ideology. It would almost lend one to think that his sudden skyrocketing to fame in 2019 over his insanely popular single "Old Town Road" and his coming-out as gay was purposely maneuvered as an industry plant. Regardless if that's true, Nas can certainly be considered an evil pawn meant to disrupt the already bankrupt morality of today's society. Perhaps that's giving him too much credit.
Four days later, Scott Whtilock huffed:
ABC's Nightline on Monday proved, yet again, that journalists have no concept of religion or what might be offensive. The late-night news program promoted Lil Nas X and his "Satan Shoes," as well as the singer's new video in which he "slides down from heaven to hell on a pole and twerks on Satan." This, apparently, is only offensive to "conservative Christians," a label that reporter Ashan Singh uses twice.

As though this were all normal, Nightline co-host Juju Chang hyped, "Lil Nas X taking the old town road to hell. Going viral again and igniting controversy. How the 'Call Me By Your Name' singer is confronting homophobia and selling out a special edition of Satan shoes."

Sounding like PR for the Satan-loving song, Singh touted, "It's these words and these images where Lil Nas X, who is openly gay, is seduced in the garden of Eden and then slides down from heaven to hell on a pole and twerks on Satan, that has people glued to their scenes."

[...]

Remember when Nightline used to be a news program? It's been quite a while since the era of Ted Koppel. Twerking with Satan makes Nightline's fascination with "bootleg butt injections" look positively classy.
In a March 31 post, Curtis Houck complained that MSNBC's Joy Reid refused to hate Lil Nas X's video: "During a rant that reveled in the R-rated Lil Nas X video and Satan-themed Nike sneakers as a way to own Christians, Reid ruled that opposition to thing such as Lil Nas X's sexuality, transgenderism, and even China's communist government would encourage violence against Asian Americans and LGBT people." Hays returned on April 5 to complain about a fictional version of Lil Nas X after "Saturday Night Live" satirized the right-wing freakout over him:
Saturday Night Live paints a perfect portrait of today's tragic cultural landscape by opening the April 3 episode with a fictional talk show "Oops, You Did It Again," "that will shine light on the social pariahs of the week." Lil Nas X, Pepe Le Pew, and Rep. Matt Gaetz (R-FL), appear as this week's worthy candidates who explain themselves before the host Britney Spears, played by cast member Chloe Fineman. She then decides if these most-discussed cultural figures are "innocent or not that innocent."

Rightly so, the first guest to join Spears is Lil Nas X, played by Chris Redd. The 21-year-old rapper has been the topic of much controversy in recent days surrounding the explicit lap dance he administered to Satan in his "Montero" music video along with the "Satan shoes" he designed and which Nike sued him for. In order to even the playing field, Spears suggests Nas also gives a lap dance to God. He agrees and immediately a guy dressed in a white cloak with long white hair and a beard is summoned for him to dance on.
Lil Nas X knew this would happen, and he was definitely trolling right-wing Christian like the folks who staff the MRC with the video and the shoes, as a little payback for having to grow up in a homophobic Christian environment.
But rather than feel ashamed for getting played so easily, the MRC doubled down on the hat. When Lil Nas X did something else controversial in June, Gabriel Hays was right on cue with the performative hate and outrage:
Proud anti-religious homosexual Lil Nas X continued his war against the Catholic Church and traditional marriage at the 2021 BET Awards.

Appearing on the red carpet for the annual BET Awards, Nas X, whose real name is Montero Lamar Hill, turned heads with his ball gown. Though the homosexual man wearing a dress with a plunging neckline wasn't the controversy of the moment, believe it or not. It was that the blue and white pattern on his dress featured a message attacking the Catholic Church by equating it with Nazi-ism.
For full outrageous effect, Hays also devoted three paragraphs to recounting the events in the months-old "Montero" video.
When Lil Nas X got named to a position at Taco Bell in August, it was Joseph Vazquez's turn for performative outrage, complete with insisting on calling him by his birth name instead of his stage name:
Infamous rapper Lil Nas X, who made an anti-Christian statement by straddling the Devil in a hellish music video, is now being promoted by a famous fast-food company as its chief impact officer.

Taco Bell, in its infinite wisdom, picked Lil Nas X — whose real name is Montero Lamar Hill — to become "the brand's first Chief Impact Officer," according to Adweek. The outlet described the new position for Hill, who has allegedly worked at Taco Bell in the past, as an "'honorary' gig that's expected to run for several months and fan out over the release of his much-anticipated record, Montero, and the restaurant's scholarship program for young creatives."

"Young creatives" for the taco giant clearly include overtly gay artists who get a kick out of giving Satan a lap dance. Hill also caused a media firestorm this year when he announced his ">Satan Shoes," allegedly made with a drop of human blood. Maybe Taco Bell was trying to tell consumers something when it first started selling its now-popular "Diablo" sauce.

[...]

Hill wrote a letter accompanying the video to his 14-year-old self and tweeted it with the admission that he had an agenda behind his Satanic indiscretion: "[T]hey will say i'm pushing an agenda. but the truth is, i am. the agenda to make people stay the fuck out of other people's lives and stop dictating who they should be." It's worth noting that Hill's target audience has been reported to be "children."

Welcome to Taco Hell.
for Lil Nas X's appearance at the MTV Video Music Awards in September, the performative outrage baton passed to Karen Townsend. After noting that he "recreated a gay prison shower scene from the music video for "Industry Baby" in his performance of the song," she went on to lament that he won an award:
Alas, Lil Nas X won the award for Video of the Year for "Montero (Call Me By Your Name)."

Lil Nas X: Wow! Let's go! Wow, oh my God! Okay, first I want to say thank you to the gay agenda! Let's go, gay agenda!

He thanked "the gay agenda" as he accepted the award for a video of him riding a stripper pole to Hell to give a gay lap dance to Satan, so it was very appropriate.
If that wasn't enough -- and it clearly wasn't -- Matt Norcorss spent an Oct. 9 post lamenting "an increasingly debased and woke culture," with his main exhibit being you-know-who, complete with yet more performative outrage over the "Montero" video:
And you won't believe the praise that piece of garbage got from liberal publications. Also, guess who promoted Lil Nas X to "Chief Impact Officer" after he released this filth? Does the name Taco Bell sound familiar? That's definitely going to alienate a lot of potential customers.

[...]

And all of this is just fine with the liberal media, which celebrates filth like Lil Nas X, as well as the smut and woke lectures that go along with it. Even worse, if you think any of this content is offensive or disgusting, you're a right-wing gasbag with partisan outrage in the eyes of organizations like MSNBC.
That's rich coming from someone whom (we assume) got paid to write about his outrage. Of course, it is partisan -- the MRC is a partisan organization with a specific agenda to oppose LGBT rights. And it spent the past year targeting someone for his sexuality -- which, of course, Lil Nas X knew would happen. The MRC played their hateful role because hating is their job -- they couldn't do otherwise. And Lil Nas X reeled them in so easily.
Posted by Terry K. at 8:29 PM EST
Updated: Sunday, January 16, 2022 8:31 PM EST