Flooding The Zone: The MRC's War on Whoopi
Topic: Media Research Center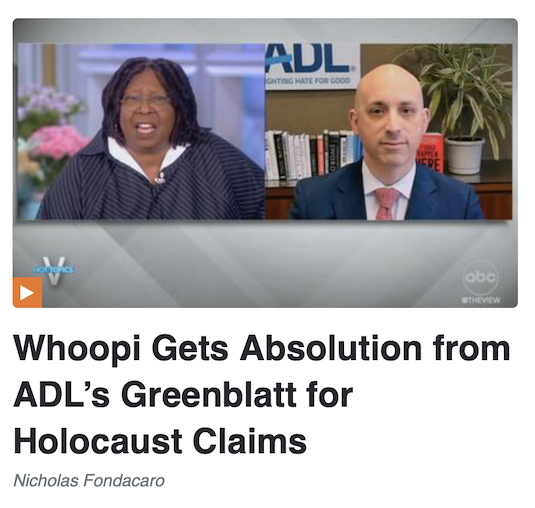 One of the Media Research Center's anti-media tactics is best described as "flooding the zone" -- cranking out post after post about an issue it has designated to be an outrage with the goal of not only getting its fellow right-wing media outlets to join in the outrage but also to force non-right-wing outlets to pick up the story. We've documented the MRC's abortive attempts to flood the zone before the story changed away from right-wing-friendly narratives, but that tactic also works on stories that stay on narrative but have been deemed to need a little extra oomph.
That explains why the MRC managed to wring a whopping 14 items over four days manufacturing outrage over Whoopi Goldberg's misguided remarks regarding the Holocaust. Now, her remarks didn't need much help to generate outrage, but because Goldberg is an enemy of the MRC for committing the offense of not being conservative, the MRC felt compelled to amplify the comments as much as it could. Nicholas Fondacaro was quick to brand her "anti-Semitic" while also getting in a a tacit endorsement of school book banners:
Following a Monday segment blasting podcaster Joe Rogan for spreading "misinformation," co-host Whoopi Goldberg showed us that real misinformation and anti-Semitism was alive and well on ABC's The View as she falsely suggested, "the Holocaust isn't about race" but just "two white groups" going at it.

As part of their discussion about a Tennessee school allegedly banning the Holocaust-themed graphic novel Maus (in reality it was simply removed from an 8th-grade reading list and they were open to bringing it back), Whoopi described the Holocaust as " white people doing it to white people. So, this is y'all go fight amongst yourselves.

[...]

A few minutes later, Whoopi let loose her full anti-Semitic perspective on what the Holocaust was: "Well also, if we're going to do this, then let's be truthful about it because the Holocaust isn't about race.

Immediately following her false declaration, you could hear a pin drop on the set. It was broken by co-host Sara Haines saying "no" seemingly in agreement and Whoopi doubling down. "No. It's not about race," she said.
Was Goldberg wrong and ignorant about the Holocaust by denying it was about race? Absolutely. Was it anti-Semitic, as Fondacaro insisted? Not so much -- she didn't deny the Holocaust, nor did she deny that Jews were its main victims, nor does she have any kind of history of anti-Semitism. But that's the narrative the MRC ran with -- even though it could be argued that the MRC is more anti-Semitic than Goldberg because of its obsession with George Soros -- at one point declaring him a Jew you're allowed to hate -- and its habit of using the anti-Semitic "puppet master" trope to describe both Soros and ex-CNN chief Jeff Zucker.
In a later update to his post, Fondacaro proclaimed himself "first on the scene" in capitalizing on Goldberg's comment and noted her apology that cited "comments from Anti-Defamation League CEO Jonathan Greenblatt scolding her."
But Fondacaro had a narrative to push. Soon after, Fondacaro wrote a post declaring that Goldberg went on "an anti-Semitic screed," gushing that right-winger Ben Shapiro went on Fox News "to unpack and call out Whoopi and the radical left-wing ideology that allow for her type of anti-Semitism." That was followed by Curtis Houck complaining that Goldberg appeared on CBS pre-apology where she "defended her vile comments about the Holocaust," dismissing the partial apology she made on the show as "mealy-mouthed pandering."
The day after Goldberg's original remarks, Fondacaro lashed out not only at her but, bizarrely, at Greenblatt for helping educate her on the truth about the Holocaust (while, again, bragging that he was "first to report" her statement even though she said it on national TV in front of an audience of millions):
Proving there's a double standard when it comes to who politically gets to have their career survive and life's work preserved after making controversial comments, on Tuesday's edition of ABC's The View, co-host Whoopi Goldberg (a stage name) got direct absolution from Anti-Defamation League CEO Jonathan Greenblatt after she falsely claimed: "the Holocaust isn't about race" (for which NewsBusters was first to report).

[...]

Greenblatt did note that the history of hate against Jews doesn't comport well with "the way we think about race in 21st century America, where primarily it's about people of color."

Adding: "But throughout the Jewish people's history, they have been marginalized, they have been persecuted. They have been slaughtered in large part because many people felt they were not just a different religion, but indeed a different race."

At no point did Greenblatt address the recent revelation that the ADL changed their definition of racism to suggest only white people can be racist. "The marginalization and/or oppression of people of color based on a socially constructed racial hierarchy that privileges white people," they wrote.
Despite claiming a "double standard," Fondacaro cited no instance of a right-winger whose remarks unfairly cost them their career.
Kyle Drennen devoted a post to complaining that ABC's morning show didn't cover the story immediately, sneering: "Perhaps the network morning show was waiting for Anti-Defamation League CEO Jonathan Greenblatt to grant Goldberg absolution before it touched the story – something which occurred later Tuesday morning on The View." Another Fondacaro post again referenced "Whoopi Goldberg's (stage name) anti-Semitic comments about the Holocaust" -- he's weirdly obsessed about noting that Whoopi uses a "stage name" -- and hying that "sources inside ABC said Whoopi's in "deep s--t" with some pushing for her to be fired." At the end of the day on Feb. 1, Fondacaro got the climactic resolution he was hoping for, while still whining that Greenblatt worked with her:
ABC finally took disciplinary action against The View co-host Whoopi Goldberg (stage name) Tuesday night regarding her anti-Semitic comments about the Holocaust, in the form of a two-week suspension, effective immediately, according to a staff e-mail sent by ABC News president Kim Godwin and leaked to CNN media reporter Oliver Darcy.

[...]

As NewsBusters reported, Whoopi was conveniently absolved of her transgression by Anti-Defamation League CEO and former Obama official Jonathan Greenblatt during Tuesday's show. It was something [ABC News president Kim] Godwin seemed thankful for.
Written like someone whose work to manufacture a narrative got the payoff he wanted -- and that was just two days of work and seven outraged MRC posts. But the MRC wasn't done complaining -- more soon.
Posted by Terry K. at 10:59 PM EST
Updated: Monday, February 28, 2022 9:28 PM EST