The MRC's Mean Girls Mock CNN's Ratings Again
Topic: Media Research Center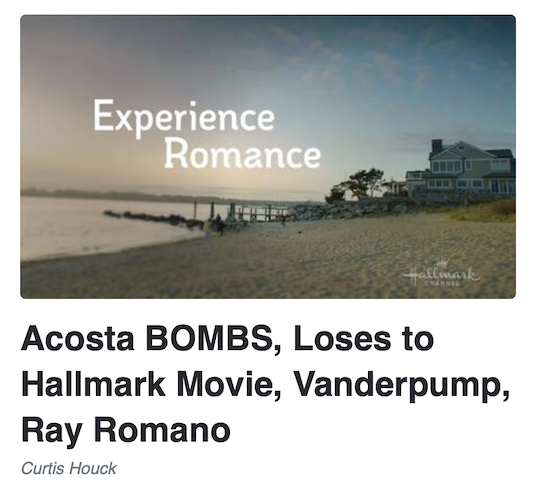 The Media Research Center loves to gloat childishly over the allegedly low ratings on non-right-wing channels. Curtis Houck is the designated childish mocker of CNN's ratings, and he brought the immature hate again in a Jan. 21 post:
CNN's New Day co-host and insufferable liberal pundit Brianna Keilar received her turn this week to audition for the vacant 9:00 p.m. Eastern slot and, instead of it being called CNN Tonight, it was labeled Democracy in Peril. According to Nielsen Media Research, no one seemed to care as she drew fewer viewers than shows like Food Network's Worst Cooks in America, Game Show Network's Chain Reaction, TLC's My 600 Pound Life, and reruns of The Andy Griffith Show.

Needless to say, we're not surprised that few seemed to tune in for a nightly dose of her penchant for spewing venom against just about anyone who disagrees with her. If they want fear porn about your conservative coworker or spouse, they probably watch MSNBC's Nicolle Wallace instead.

[...]

No matter how you slice it, things aren't going well for her and the divisive, snarky kind of politics she espouses (masquerading as news).

That act normally wouldn't fly in the eyes of any reasonable executive worth spending millions to make permanent, but given the way Jeff Zucker has operated, it wouldn't be surprising if Keilar and Democracy in Peril receive the permanent nod.
Since the MRC has made CNN's Jim Acosta its longtime personal enemy, it's no surprise that lazy potshots were taken at him too.Kevin Tober whined about Acosta's turn in that timeshot for a Jan. 24 post:
If you are like the overwhelming majority of Americans and did not tune into Jim Acosta's debut of the low-rated CNN show Democracy in Peril, you weren't missing much. In fact, you can probably guess what was said by Acosta and his conga line of leftist guests.

The first guest Acosta had on was the left-wing election attorney Marc Elias who spewed all kinds of crazy conspiracy theories on the show. Jim Acosta was the first one out of the gate, asking Elias "how likely is it in these upcoming midterms that we're gonna see a scenario of multiple elections across the country becoming such a huge circus because of these bogus fraud claims?"

As expected Elias didn't scoff at this notion, instead he fearmongered that "we are one, maybe two, elections cycles away from a real constitutional crisis."
Tober made no effort whatsoever to disprove or counter anything that was said on the show, so maybe it's not as "crazy" as he would like us to believe.
Sure enough, a few days later, Houck served up another dose of immaturing in mocking Acosta's ratings:
Following New Day co-host Brianna Keilar's spectacularly bad week hosting CNN's poisonously partisan Democracy in Peril special, carnival barker Jim Acosta received his chance to audition for the primetime slot formerly held by Chris Cuomo and, through three days, Acosta did even worse. Among the shows he lost to, Acosta fell behind a Hallmark movie, History's Forged in Fire, a rerun of Everybody Loves Raymond, Property Brothers, and, yes, My 600 Pound Life.
Yes, Houck sure seems to find fat people eminently mockable, doesn't he?
This petty gloating doesn't exactly make people want to the MRC seriously -- Houck comes off as a jerk, not a serious person.
Posted by Terry K. at 7:16 PM EST