Double Standard: CNS Covers Biden's Prayer Breakfast More Harshly Than Trump's
Topic: CNSNews.com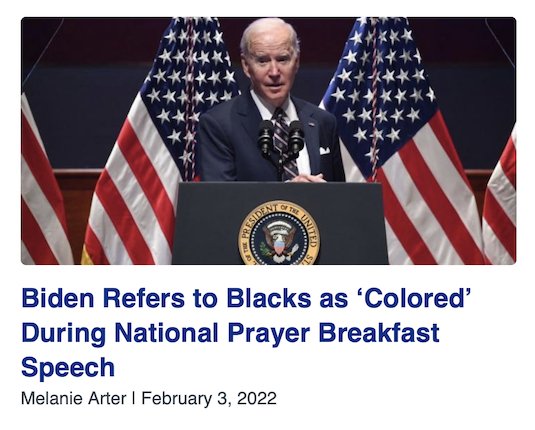 When President Biden spoke at the National Prayer Breakfast last month, CNSNews.com rushed to frame it as negatively as possible. Its lead article, by Melanie Arter, hyped that Biden used an outdated racial term:
President Joe Biden referred to blacks as "colored" during a speech at the National Prayer Breakfast on Thursday during Black History Month.

Biden was telling the story of seeing "colored kids" on a bus when he moved from Scranton, Pa., to Claymont, Dela.

"I remember going to a little Catholic grade school in Claymont, Delaware, which is a steel town that was dying, and the bus would --- my mother would drive me to the school parking lot. It's called Holy Rosary School from a little—it was called Brookview Apartments, used to be Section 8 housing later, and I got out of the bus-- I got out of the car, and that's where I-95 runs parallel to these days," the president said.

"And I said mom, 'Why are all those kids' – who was then called colored – 'Why are all those colored kids in that bus?' Because in Scranton, there weren't any. There were very few blacks. [My mother] said they're not allowed to go to school with us here in Delaware. So you know, and Milton wasn't what you might call the epicenter of desegregation, and so you've been through a lot, but you've done a lot as well, and I thank you," he said.
Biden using the word "colored" was the only takeaway Arter got from him telling that story -- even though he explained that the word was in common use when he was growing up.That's the sign of a highly biased news outlet desperate to find negativity and hype it.
That was followed two and a half hours later not by another article on what else Biden might have said but, rather, by a column from CNS' favorite dishonest Catholic, Bill Donohue, bashing Biden's speech, which he turned into a partisan rant having nothing to do with religion:
It's a good thing that Vice President Kamala Harris didn't speak first at the National Prayer Breakfast. She would have made President Joe Biden look bad.

She gave a very good speech, ending with a prayer. He personalized his address, offering a mumbling account of his interactions with congressional colleagues, past and present.

Instead of rehashing old war stories and making silly comments on how "the world is changing," Biden could have taken the opportunity to address one of our most pressing social problems — the war on the police. He said not a word about the cop-killing spree that has become a national embarrassment. Oh, yes, he mentioned gun violence, but not in reference to police being shot.

[...]

The real reason crime is increasing at an alarming rate has everything to do with the leaders of Biden's party. Democrat-run cities with George Soros-funded DAs have sent criminals and cops a message: social justice means fewer penalties for violent criminals and less interest in the welfare of the police.

Biden blew it. He had a chance to make substantive remarks about real-life issues that the public is facing. Instead, he sounded more like an old man reminiscing about days gone by.
The headline of Donohue's column originally read, "Biden's Prayer Breakfast: Flashbacks and Silly Comments but No Discussion of Cop-Killing," but was later changed to the slightly more benign "Biden Failes At Prayer Breakfast Event."
It was not until an hour and a half after Donohue's negativity was posted that CNS got around to doing an article -- anonymously written, of course -- that reported on religion-related things Biden said at the prayer breakfast:
President Joe Biden addressed the National Prayer Breakfast today, which was held in the U.S. Capitol Visitor Center and attended by many members of Congress from both parties, and said the he prayed that "we follow what Jesus taught us."

"I've attended many of these prayer breakfasts over the years—with our nation at war, in struggle, in strife, peace, in times of prosperity, when everybody was getting on, but a nation in prayer," said Biden.

"Jill and I have been humbled by the prayers of so many of you, and it means everything to us," he said. "We pray for our nation as we face an inflection point in our history."

"You know, at a moment of great division of our democracy is at great—grave risk," Biden said a moment later in his speech.

"I pray that we follow what Jesus taught us: to serve rather than be served," said Biden. "I don't always do it. I hope try. I don't always do it.

"I pray to keep the faith," he said.
By contrast, CNS' coverage of President Trump's speech at the 2020 prayer breakfast -- which came shortly after he was acquitted by Republicans in his first impeachment trial -- was much different. First up was an article by Arter uncritically repeating Trump's whining about being criticized:
One day after the Senate acquitted him on two articles of impeachment, President Donald Trump opened his speech at the 68th Annual National Prayer Breakfast on Thursday by lashing out at House Speaker Nancy Pelosi (D-Calif.) and the Democrats for trying to impeach and remove him from office.

"As everybody knows, my family, our great country and your president has been put through a terrible ordeal by some very dishonest and corrupt people. They have done everything possible to destroy us and by so doing, very badly hurt our nation. They know what they are doing is wrong, but they put themselves far ahead of our great country," he said.

[...]

Without naming names, Trump lashed out at Sen. Mitt Romney (R-Utah) for being the lone Republican to vote to remove Trump from office and referencing his faith before the vote. The president also lashed out at Pelosi, who attended the National Prayer Breakfast.

Without mentioning Pelosi by name, the president said he doesn't like people who say "I pray for you" when they know they don't.

"I don't like people who use their faith as justification for doing what they know is wrong. Nor do I like people who say I pray for you when they know that that's not so. So many people have been hurt, and we can't let that go on, and I will be discussing that a little bit later at the White House," Trump said.
That was followed by more uncritical stenography from Arter of Trump using a prayer breakfast to brag about himself:
The U.S. economy is doing so well that employers are running out of people to hire and are employing ex-cons like never before, President Donald Trump said in a speech at the 68th Annual National Prayer Breakfast.

"We are lifting up the citizens of every race, color, religion, and create a period of bringing hope to forgotten communities and more Americans are working today, 160 million - a little bit short, just a little bit - 160 million, we have never been even close than ever before," he said.
But CNS censored the fact that many faith leaders objected to Trump using the prayer breakfast to unleash political attacks on his critics. Nevertheless, Craig Bannister felt the need to play gotcha with Nancy Pelosi over her criticism of Trump's performance:
House Speaker Nancy Pelosi (D-Calif.) said Thursday that she doesn't know exactly what President Donald Trump said about her or Sen. Mitt Romney (R-Utah) earlier at the National Prayer Breakfast – but, she's sure it was inappropriate.

At a press event following the breakfast, Pelosi first accused Trump of saying something "completely inappropriate" about Romney:

"So, yesterday, the Senate acted – first time in history that a senator has voted against his own president in a decision regarding impeachment. God bless him for his courage.

"This morning, the president said that, when people use faith as an excuse to do – I don't if he said, 'bad things' – but, whatever he said was just so completely inappropriate, especially at a prayer breakfast."

Pelosi, then, assumed that Trump had referenced her when he said he didn't like people who claim they pray for him (as Pelosi has claimed), but don't actually do so.
Bannistser then huffed that "In fact, Trump did not actually mention either Pelosi or Romney by name in his prayer breakfast remarks, CNSNews.com reports" -- then quoted from the part of Arter's article in which she explained that Trump didn't use their names, it was clear who he was referring to. Which, of course, completely undermines his argument.
This is just the latest example of CNS treating Biden more harshly than Trump for doing similar things.
Posted by Terry K. at 12:48 AM EST
Updated: Sunday, March 13, 2022 10:18 AM EST