MRC Loves Gutfeld's Cruel 'Humor'
Topic: Media Research Center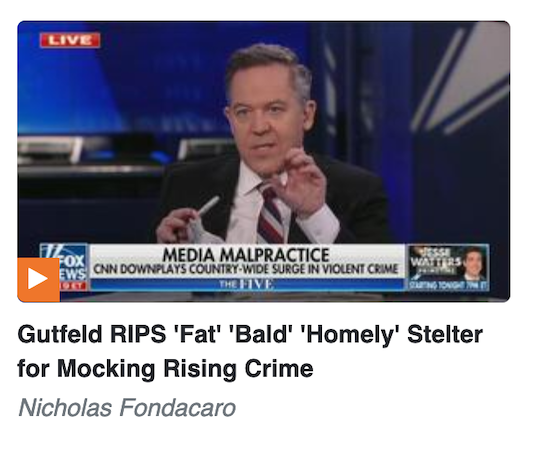 The Media Research Center has a cruel streak, as seen by its immature gloating over CNN's allegedly low ratings. It loves when others are cruel to its preferred targets too, which brings us to this Jan. 24 post in which Nicholas Fondacaro enjoys Greg Gutfeld's casual cruelty:
In a hilarious and pointed segment on the Fox News Channel's The Five on Monday, co-anchor Greg Gutfeld unloaded on CNN's Brian Stelter for taking swipes at Fox News for reporting on the fact that violent and other forms of crime were on the rise throughout President Biden's America. Even Democratic co-host and former Congressman Harold Ford (D-TN) took Stelter and his henchman Oliver Darcy to task.

After playing a clip from CNN's so-called "Reliable Sources" where Stelter and Darcy whined about Fox's reporting, Gutfeld declared: "It's got to be gross to work at CNN where all you do is push these elaborate hoaxes while denying actual human suffering."

Gutfeld recalled his jokes about Stelter being "fat," "bald," and "homely" and how CNN host Don Lemon and disgraced former host Chris Cuomo would repeatedly mock the rise in violent crime on-air[.]
Yes, Fondacaro thinks mocking someone's looks is "hilarious." And Gutfeld's justification for his cruelty isn't any better:
People ask me why do I constantly point out how fat Brian Stelter is, how fat and bald and homely he is. And I always tell you that no insult is worse than their ideas, as long as they mocked the black-on-black crime and death in the streets, which there is tape of Don Lemon and Chris Cuomo laughing about it. As long as they believe that I got a pass on it, then everything is on the table. You can make fun of them about anything. Right?

So, they chose this hill to die on while cops and civilians are literally dying.
How does the fact Gutfeld doesn't agree with Stelter's criticism of Fox News' cirime coverage justify Gutfeld's viciously smearing Stelter over his looks? It doesn't. But Gutfeld thinks it does -- and Fondacaro thinks his cruelty is hilarious.It's clear neither of them see Stelter as a human bein, only an enemy to be destroyed for failing to conform to right-wing groupthink. That's how conservative cancel culture works.
Which tells you all you need to know about Fondacaro and the mindset that runs the MRC.
Posted by Terry K. at 10:44 AM EST