CNS Follows MRC's Lead, Pushes False School Board Narrative
Topic: CNSNews.com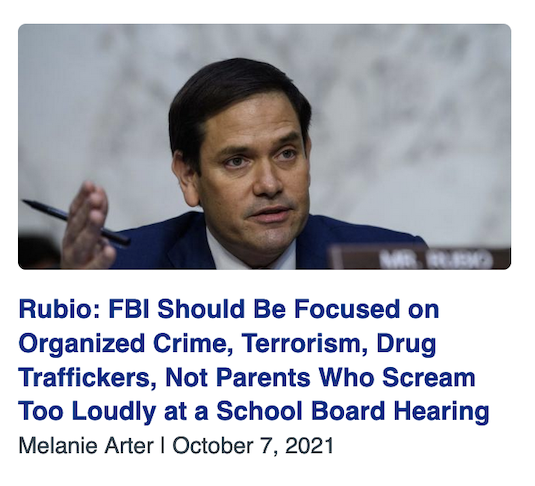 As it often does, CNSNews.com took cues for its editorial agenda from its parent, the Media Research Center -- this time, repeating a lie the MRC aggressively pushed.
Susan Jones surprisingly started out an Oct. 5 article by sticking to the actual facts:
Attorney General Merrick Garland on Monday announced a new effort to "address the rise in criminal conduct directed toward school personnel."

Garland pointed to an increase in "harassment, intimidation and threats of violence against school board members, teachers and workers in our nation's public schools."

Many Americans have seen video of emotional parents packing into various school board meetings to protest what the schools are trying to teach their children -- everything from critical race theory (whites are racists) to transgender "rights" (use the preferred pronoun or else), etc. Tempers also have flared over masking policies in the nation's schools.

Threats of violence are one thing -- clearly illegal, as Attorney General Garland noted. But there may be a fine line between "harassment/intimidation" and legitimate protest.

So the Justice Department said it is offering "specialized training and guidance for local school boards and school administrators." According to the news release, "This training will help school board members and other potential victims understand the type of behavior that constitutes threats, how to report threatening conduct to the appropriate law enforcement agencies, and how to capture and preserve evidence of threatening conduct to aid in the investigation and prosecution of these crimes."
However, Jones quickly started casting doubt on the letter from the National School Boards Association that prompted Garland's effort, then quickly embraced the bogus narrative:
The letter cites more than twenty instances of (alleged) threats, harassment, disruption, and acts of intimidation that have transpired during school board meetings and that are targeted at school officials. "As these acts of malice, violence, and threats against public school officials have increased, the classification of these heinous actions could be the equivalent to a form of domestic terrorism and hate crimes," the NSBA wrote.

The following are various instances of "threats, harassment, disruption and acts of intimidation" cited by the NSBA: (Some sound like legitimate protest, but that will now be up to the Justice Department to determine.)

[...]

As part of its crackdown on parents objecting to the leftist political indoctrination of their children, the Justice Department announced it will create a task force "to determine how federal enforcement tools can be used to prosecute these crimes, and ways to assist state, Tribal, territorial and local law enforcement where threats of violence may not constitute federal crimes."
As we've documented when the MRC pushed this narrative, at no point did the NSBA letter explicitly portray mere criticism as terrorism, making it a lie for Jones to suggest that it did.Indeed, the MRC has claimed only that the link was "suggested," which leaves lots of room for partisan interpretation.
The next day, however, Jones was fully on board with the false narrative that school boards and the DOJ want to silence any school critic and portray them as "domestic terrorists," uncritically repeating Republicans politicians' bogus claims calling it a crackdown on all "parental speech":
Several Republican lawmakers are condemning what they call a "dangerous overreach" in "going after parents."

"Obviously, every state has laws on the books for criminalizing violence or criminal threats," Sen. Tom Cotton (R-Ark.) told Fox News on Tuesday:

[...]

Cotton said parents will now think twice about going before their school boards: "But that's as American as anything -- going to your local elected leaders and voicing your concerns, especially when it comes to educating your kids."
Melanie Arter joined the dishonest pile-onin an Oct. 6 article that began with reciting the actual case made by the NSBA and Garland, then weirdly waited until the ninth paragraph to discuss the issue that was the actual headline, as promoted by the MRC's favorite biased White House reporter, Peter Doocy:
When asked whether the administration considers parents who are upset about their children's curriculum to be domestic terrorists, White House Press Secretary Jen Psaki said Wednesday that threats and violence against public servants, particularly school board members, is illegal.

Fox News White House Correspondent Peter Doocy asked, "A week ago, the National School Boards Association wrote to the president to say that their teachers feel like some parents protesting recently could be the equivalent to the form of domestic terrorism, and then the attorney general put the FBI on the case, so does the administration agree that parents upset about their kids' curriculums could be considered domestic terrorists?"
Arter lazily left Psaki's answer -- that "threats and violence against public servants is illegal" -- buried in a transcript excerpt, though that statement was also the headline of her piece.
Ater followed up on Oct. 7 with an article uncritically quoting Republican Sen. Marco Rubio complaining that "parents who show up at school board meetings to protest critical race theory or mandatory mask mandates are being demonized while left-wing protesters are encouraged by Democrats and the media to harass members of Congress that they disagree with":
"First of all, it's alarming, and second of all, it's hypocritical. It's alarming because this idea that somehow if parents show up at a school board to complain, if somebody there decides, well we don't like his tone of voice, we don't like how loud he's speaking, we don't like how often he shows up, you can be reported," Rubio told "Fox News Primetime."

"The Federal Bureau of Investigation, which should be focused on things like organized crime, things like drug traffickers, things like terrorism and others who seek to harm this country, is now going to divert resources to investigate parents because they scream too loudly or maybe even rude at a school board hearing and hypocritical because let me tell you, there is very few of any senators, certainly people on the right, members of Congress, as well who have not been harassed in their private life," he said.
CNS clearly had its marching orders -- to work with Republican and rightiwing activists to repeat this bogus claim far and wide and as loudly as possible. And so it did:
Managing editor Michael W. Chapman used an Oct. 7 article to serve as stenographer for Republican Sen. Ted Cruz, who cited Garland "directing the FBI to treat parents who speak out at school board meetings as 'domestic terrorists" as evidence that Democrats are "jackbooted thugs."Chapman uncritically called in other right-wing firepower: "According to the conservative Heritage Foundation, 'The Garland memo looks like an effort to use the FBI to threaten and silence parents who are outspoken opponents of critical race theory in schools. That alone would be a stunning partisan abuse of power. What Garland has done, however, is even more disgraceful.'" But threatening and silencing school boards is apparently perfectly finew ith Heritage and Chapman.
The same day, Arter gave another politician's lying, paranoid rant a pass:
Sen. Rand Paul (R-Ky.), who was accosted by Black Lives Matter protesters while he was with his wife, said Wednesday that the DOJ is criminalizing parents who show up at school board meetings angry over mask mandates and critical race theory curriculum in schools, but protesters on the left who use violence are getting off with a slap on the wrist.

[...]

ldquo;Well, I think the problem is it's become so normalized to use government to search out and seek out your opponents. So for example, when FISA warrants, which are supposed to be foreign intelligence surveillance court warrants - they're supposed to be used on foreigners - were used on Trump campaign and Trump campaign operatives, the left didn't blink an eye," Paul said.
Chapman returned to bring his favorite hateful evangelical activist to spread the lie:
Noting that communist governments use their power to silence their citizens, Rev. Franklin Graham said the Biden administration is doing exactly that by trying to silence parents who oppose the teaching of Critical Race Theory in their children's schools.

[...]

In an Oct. 7 post on Facebook, Rev. Graham said<, "It's an ominous sign when the government uses its power to try and silence the voice of the people. That's how communism works. Anyone who speaks against communism or the goals of communism becomes the enemy."

"And we're seeing this happen right in our own country," said Graham. "The Biden administration, which bows to the radical progressive left, would like to silence parents who voice strong opinions against critical race theory and trans radicalism at school board meetings."

"Unbelievably, the National School Boards Association asked that parent protests at school board meetings be treated as possible acts of 'domestic terrorism,'" said Graham "This tactic of intimidation is meant to silence parents with views the Left doesn't agree with."
Chapman did no fact-check on Graham, even though his reporters had previously outlined the truth about what Garland and the NSBA are doing. That's because Chapman knows pushing employer-mandated right-wing narratives is more important to keeping his job than reporting the truth.
Posted by Terry K. at 12:24 AM EST