With Epstein's Death, WND Embraces 'Clinton Body Count' Again
Topic: WorldNetDaily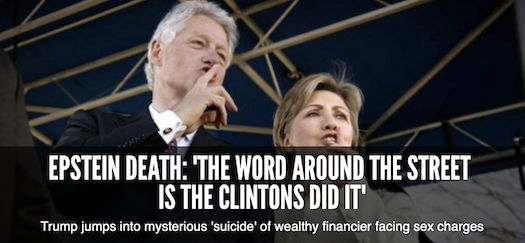 When Jeffrey Epstein reportedly attempted suicide a couple weeks back, WorldNetDaily couldn't run fast enough to embrace hoary, discredited "Clinton body count" references. Now that Epstein has died apparently from suicide, WND unsurprisingly went to that Clinton-hating well once again. Joe Kovacs cheered in an Aug. 11 article:
This weekend's mysterious death of wealthy financier Jeffrey Epstein at a federal prison in New York has ignited an online war of conspiracy theories, as President Trump retweeted messages suggesting former President Bill Clinton may somehow be involved, and Trump's own son blasted Twitter for suppressing the the trend of the "ClintonBodyCount," while prominently displaying "TrumpsBodyCount" as the top trending topic for discussion.

Epstein, who was facing numerous charges of sex trafficking involving underage girls, was found hanging dead in his jail cell about 6:30 a.m. Saturday, with the U.S. Justice Department saying it was the result of an "apparent suicide."

On Saturday afternoon, President Trump retweeted messages insinuating the Clintons may have had some sort of connection to Epstein's sudden death.
At no point did Kovacs mention the fact that the "Clinton body count" has been long discredited. Instead, he touted an earlier WND article that "documented the uncanny number of Bill and Hillary's 'friends' who mysteriously fell off buildings, crashed in planes and died in freak accidents."
Kovacs also failed to mention that WND spread knowing falsehoods about one of the people on that list, Seth Rich, because then-WND reporter Jerome Corsi knew as early as August 2016 that it was Russian hackers, not Rich, who leaked internal Democratic emails to WikiLeaks, yet WND continued to push the false Rich leak angle. While he's at it, Kovacs might want to discuss the fact that Russian intelligence operatives were the ones who planted the Seth Rich conspiracy theories WND so enthusiastically embranced.
Kovacs followed this with an article uncritically repeating speculation that Epstein might not be dead -- mostly coming from Rush Limbaugh. He added that it was "comical" to dispute that the Clintons killed Epstsein, citing conservative Ben Shapiro stating that "If you believe the Clintons crafted a genius plan to murder Epstein you're going to have to explain why Hillary wasn't even able to find Wisconsin on a map." That's not stopping WND from suggesting otherwise, of course.
Then, a WND column from Andy Schlafly that, while not quite as conspiratorial as Kovacs, is similarly obsessed with Clinton:
The #MeToo movement takes on the Deep State over the Epstein scandal, and the shadow governmen may have finally met its match. The outrage by feminists against Jeffrey Epstein for evading justice while allegedly providing underage girls to powerful men has even the New York Times demanding answers.

Epstein was apparently protected by the Deep State for more than a decade, receiving extraordinary favoritism right up until his final moments of life in jail. At first the liberal media reacted to his death by calling anyone who questioned the circumstances a "conspiracy theorist," but the media have since flipped amid pressure by liberals themselves not to let Epstein's scheme off the hook.

No one can pretend that Epstein "acted alone" all those years, which is the favorite refrain of the Deep State when it wants to close the lid on investigatory failures about other famous crimes. Epstein obviously had powerful allies, starting with Bill Clinton, as well as pilots to fly them and others on the "Lolita Express" staffed by underage girls to serve for their satisfaction.

There are surely dozens, if not hundreds, who must have been in on Epstein's illicit activities and unexplained accumulation of massive wealth. Bill Clinton himself traveled numerous times on Epstein's private airplane, which included a bedroom for the pleasure of his travelers.
Schlafly didn't mention that Donald Trump was also a buddy of Epstein's.
Indulging in conspiracy theories is one big reason why WND is in its current financial difficulties, and continuing to indulge in them is one big reason why WND likely doesn't deserve to live.
Posted by Terry K. at 1:23 AM EDT