MRC Mad Media Won't Embrace Fox News' Favorite Mueller Conspiracy Theories
Topic: Media Research Center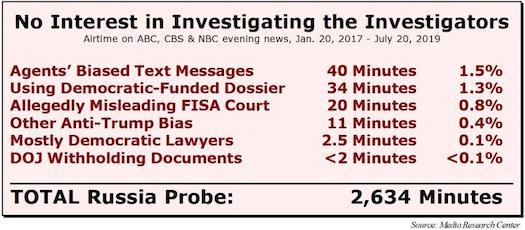 The Media Research Center's Rich Noyes complains in a July 23
post
:
Weeks before he was even subpoenaed, Special Counsel Robert Mueller signaled his testimony before two House committees would not go beyond the conclusions of his already-released report. If true, it will disappoint liberal journalists still hoping for smoking-gun testimony that might rejuvenate the faltering cause of impeaching President Trump.

But there's at least one way this nationally-televised forum can make news, and that's by a highly public airing of controversies that aren't even addressed in the Mueller Report, namely, the lingering questions of bias regarding how the probe began in 2016 and how Mueller's team subsequently handled the investigation.
Noyes goes on to serve up one of his extremely narrowly tailored "studies," complaining that the nightly network newscasts "have barely mentioned some of the crucial unresolved questions surrounding the investigation's bias." These include "the Strzok-Page text messages," "the Democratic-funded dossier," and "allegedly misleading the FISA court." Noyes also cited "other accusations of bias," such as President Trump's complaint that "the investigation was the result of bias within the Obama Justice Department and FBI."
But Noyes is simply repeating Fox News-inspired right-wing conspiracy theories (whiich may be one reason why he didn't include Fox News in his "media reserarch"). Media Matters summarizes this very well:
But Fox's counternarrative is based on falsehood and fantasy. It claims a dossier assembled by a former British intelligence officer and funded by the Clinton campaign and the Democratic National Committee kicked off the probe (it didn't), cites a FISA warrant against a former Trump campaign aide as evidence of an anti-Trump conspiracy (it isn't), misreads text messages between FBI officials to suggest they show an all-out effort to stop Trump's election (they don't), and smears Mueller and members of his team as having conflicts of interest (they don't).
The MRC, however, isn't moved by the facts, only by the determination to prop up right-wing narratives. For instance, a post by Kristine Marsh after Mueller's testimony linked back to Noyes' post in whining that the media "kept ludicrously characterizing Mueller as an apolitical player, ignoring all the anti-Trump controversies attached to his investigation.
Marsh wrote another post bashing NBC's Andrea Mitchell for highlighting how Republicans are trying to attack Mueller's nonpartisan investigation as a partisan exercise: "Mitchell didn't come up with this line of attack on her own. ABC and CNN journalists also employed the same tactic in their post-hearing analysis of deflect, deflect, deflect from the Mueller team's partisan controversies to slam Republicans as the partisan ones."
To coin a phrase: Marsh didn't come up with that line of attack on her own.
Posted by Terry K. at 2:40 PM EDT
Updated: Sunday, August 11, 2019 6:54 PM EDT