CNS Unemployment Coverage Distortion Watch
Topic: CNSNews.com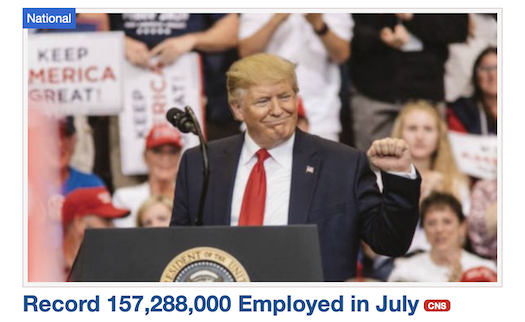 The main story on July's employment numbers at CNSNews.com was done by editor in chief Terry Jeffrey instead of Susan Jones. Jeffrey kicked things off by cherry-picking numbers to make President Trump look as good as possible:
The number of people employed in the United States hit a record 157,288,000 in July, according to the employment report released today by the Bureau of Labor Statistics.

That was up 283,000 from the 157,005,000 employed in June.

The unemployment rate held steady in July at 3.7 percent, the same as it was in June.
Meanwhile, every other real news outlet reported a different number: 164,000 jobs created in July. That appears nowhere in Jeffrey's article, presumably because it didn't make Trump look good enough.
In addition to the new favorite sidebar about Hispanic employment by Craig Bannister -- which deviated from its usual pro-Trump rah-rah by admitting right in the headline that unemployment for Hispanics increased in July -- CNS brought back one it hadn't covered in a while: black unemployment. Managing editor Michael W. Chapman did the honors, touting how "the employment level for black Americans, age 16 and over, seasonally adjusted, was at a record level in July of 19,481,000 employed."
ONe thing Chapman didn't do was play up the fact that black unemployment is roughly twice that of white unemployment -- something he regularly did in covering black unemployment during the Obama years as a biased way to attack President Obama's handling of the economy, even though that gap has always existed as long as federal statistics have been kept. Chapman merely noted in passing in the final paragraph of his article that white unemployment was 3.3 percent -- a slightly narrower gap than usual but still in line with the historical numbers -- and he never pointed out how much higher black unemployment is by comparison.
CNS also added an unbylined article about House Speaker Nancy Pelosi praising the "encouraging news" in the jobs report -- then bizarrely illustrated it with a stock photo of Pelosi with now-disgraced actor Kevin Spacey (whose name CNS manages to misspell). And Bannister served up a little snark by contrasting Joe Biden's comment that the economy is "collapsing" under Trump with a pro-Trump bullet list taken from the above CNS articles.
Remember, bias is Job 1 at CNS.
Posted by Terry K. at 1:08 AM EDT
Updated: Friday, August 9, 2019 5:37 PM EDT