MRC's Antidote to 'Liberal' Spanish-Language Networks: A Trump Propagandist
Topic: Media Research Center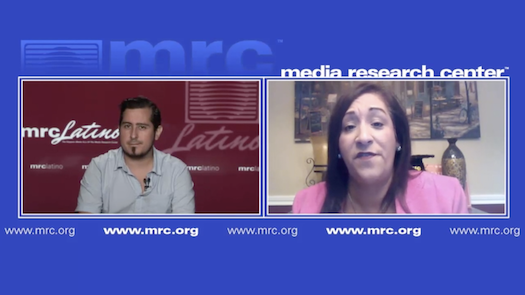 A July 31 MRC Latino post by Kathleen Krumhansl began with the usual "liberal" bashing of Spanish-language TV networks:
Since 2015, the nation's liberal media, both mainstream and Hispanic, have super-glued themselves to the same rhetoric towards President Donald Trump, using his references to the problems brought about by illegal immigration as a mantra to compel conformity to their political agenda. The latest example came on June 25th, 2019.

Spanish-language news anchors, including Jorge Ramos and José Díaz-Balart, have taken Trump's warnings about dangerous, illegal immigrants crossing the border as personal insults. Both Telemundo and Univision went about it AGAIN as recently as the launch of the Republican Party's Latino campaign in Florida on June 25, 2019, as part of their coverage of the first Democratic presidential candidate debate, which was also held in Miami.
This was followed by clips of people Krumhansl didn't like, then a transition to the actual meat of the post:
But how does the conservative Latino community feel about the constant references to the President's 2015 speech - "When Mexico sends its people, they're not sending their best… They're sending people that have lots of problems, and they're bringing those problems with us. They're bringing drugs. They're bringing crime. They're rapists."

MRC Latino's Miguel Leal interviewed Bianca Gracía, Vice President of Latinos for Trump, who was also at the Republican voter campaign event in Miami where the above mentioned interviews took place.

Her answer: "They're strongly mistaken and if that's the best that they have right now, that´s pretty sad that they can't come up with a different message to combat this President," referring to "the old stuff from 2015-2016 so often repeated by the liberals."
Yes, that's MRC Latino's antidote to the supposedly "lliberal" Spanish-language TV networks: a pro-Trump propagandist. Leal served up softball questions, and García answered them like a pro-Trump pro, especially toward the end (bolding in original):
In the words of García, her perception, and that of members of the conservative Hispanic population, is that the current administration is delivering, securing a low unemployment rate and providing jobs. In her words "our luchador (fighter) in the White House.
Yes, she actually said that. Of course, when most modern folk -- Mexicans and Americans alike -- hear the the word "luchador," they think of masked Mexican wrestlers. Not an image anyone has ever connected to Trump.
Posted by Terry K. at 3:20 PM EDT