Newsmax Pushes Ex-Employee As New DNI DIrector
Topic: Newsmax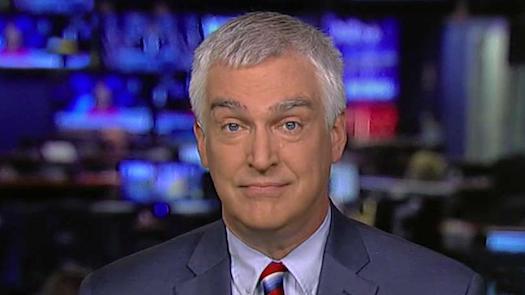 When President Trump was in search of a new director of national intelligence in mid July, Newsmax helpfully suggested a replacement, in the form of a July 15 column by Peter Pry:
President Trump, according to recent press reports, is thinking of firing Dan Coats as Director of National Intelligence (DNI), and replacing Coats with former National Security Council Chief of Staff — Fred Fleitz.

If it happens, and I pray it does, it will be a giant step toward making America's Intelligence Community great again.

[...]

Fleitz has extensive national security experience with the executive and legislative branches of government. His work for the CIA included serving as a political analyst, military analyst, analyst of Weapons of Mass Destruction (WMD) and intelligence collection officer (spy).

[...]

Fred Fleitz appears frequently on TV and has the gift — crucial in a DNI — of being able to easily and eloquently explain complex strategic and technological concepts to policymakers and the American people.

Perhaps most importantly, having known Fred Fleitz for many years, he is the worst enemy of "political correctness," utterly unafraid of facing facts, and a lion for truth.
What Pry didn't mention: Fleitz used to work for Newsmax.
As we've noted, Fleitz used to head something called LIGNET, Newsmax's attempt to create a "global intelligence and forecasting" operation to which Newsmax readers could subscribe for a fee. It didn't last long; according to Fleitz's Wikipedia profile, he ran it from 2011 to 2013, when he jumped ship to the Center for Security Policy, and LIGNET apparently didn't survive much longer beyond that.
Anyway, Trump ended up choosing someone else as DNI, Texas Rep. John Ratcliffe -- but that nomination collapsed in a few days amid concerns about his lack of intelligence experience and charges that he padded his resume.For Newsmax, that meant it could once again push Fleitz as the next DNI.
An Aug. 2 article by John Gizzi touted how "Fleitz's resume, several supporters told Newsmax, presents a striking contrast to that of Ratcliffe" and that Fleitz "was increasingly heard on Capitol Hill and at the White House as the likely successor" to outgoing DNI Dan Coats.
The same day, Newsmax posted a column by C.R. Anderson gushing over Fleitz, calling him an "ethical professional" and adding, "It doesn't take Fox News, National Review, or Lou Dobbs Show excerpts to glean Fred Fleitz has the depth in service to assume the role of Director and hit the ground running. He has no learning curve; policy catch-up isn't required."
Then, Ken Timmerman -- a onetime Newsmax regular who dabbled in Obama birtherism -- weighed in with an Aug. 3 column aggressively touting Fleitz:
The president doesn't need someone who will grow the DNI, or who will become its defender in the White House. He needs someone who will tell him the truth about the perils our nation faces.

After its horrible — and possibly, treasonous — behavior during the 2016 election, the intelligence community needs to earn the trust of this president.

Fred Fleitz is someone this president knows he can trust. He is the best man for the job — not just for the president, but for our intelligence professionals who through him will have a chance to rebuild their reputation.
None of these writers disclosed that Fleitz used to work for Newsmax.
Perhaps not so coincidentally, Fleitz has also been popping up on Newsmax TV -- we counted three appearances in the past month.
Oh, and Fleitz also has one more quality that should make him an attractive candidate: he's a Trump sycophant. We've noted a January 2017 Newsmax column in which Fleitz effectively demanded that the intelligence community should be loyal to Trump over the good of the country.
Posted by Terry K. at 2:08 PM EDT
Updated: Thursday, August 8, 2019 2:33 PM EDT