MRC Unhappy That Dead Conservative Is Remembered As A Biased, Terrible Person
Topic: Media Research Center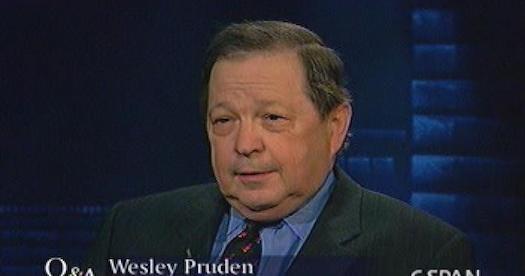 The Media Research Center's Scott Whitlock complained in a July 20 post:
The Washington Post on Friday couldn't let old rivalries go, even in death. The paper's obituary for long time Washington Times editor Wesley Pruden dripped with contempt for the "defiantly abrasive" conservative and his paper. In fact, the paper offered nicer coverage to Fidel Castro, hailing the dead dictator as a "romantic figure in olive-drab fatigues and combat boots."
Whitlock didn't link to the Post obituary on Castro but, rather, his bosses Tim Graham and Brent Bozell's column complaining about it. They -- and, thus, Whitlock -- didn't mention that the obituary also stated that Under [Castro's] reign, Havana eventually became something of a Marxist Disneyland — a shiny, happy veneer over something much uglier," pointing out that "impoverished Cubans lived in crumbling homes on rationed food. Teenage prostitutes openly offered their services to tourists." It also stated that some Cubans "clearly feared a leader who imprisoned tens of thousands of his enemies over the years, often on little more than a whim. ... Many Cubans would not offer criticism of their leader for fear of being overheard by government informants, who lived on practically every block."
Anyway, back to Pruden. Whitlock complained that the Post obituary "had to warn readers of how dangerously conservative the Times is" -- in fact, all the obituary did is point out that the Times is a highly biased newspaper and that Pruden played a key role in that by editing stories to make them even further right-wing than they may have already been, a process that's been called "Prudenizing."
We though Whitlock and the rest of the MRC opposed media bias. Apparently, bias is OK as long as the MRC approves of the bias being offered.
Whitlock went on to grouse that the obit "cited notable liberal outlets and journalists." One of which was David Brock, who wrote for the Times as a dedicated conservative before turning liberal, so that was actually germane; the other he pointed out was the left-leaning journal The Nation, which had done an expose on the paper. Whitlock clipped a short ellipsis-beginning segment pointing out that The Nation found that Pruden and then-managing editor Fran Coombs "had fostered an atmosphere that was 'profoundly demeaning and abusive to women and minorities.'"
It seems that Whitlock decided that describing Pruden as a acting in a racist and sexist manner to subordinates was less damaging than describing him as a neo-Confederate.
But the part before the ellipsis, which Whitlock made sure not to clip, highlighted how The Nation echoed reporting from the Southern Poverty Law Center that Pruden ran a weekly Civil War page in the paper that the SPLC said helped "to popularize extremist ideas and neo-Confederate sympathy." Whitlock similarly ignored the obit's statement that Pruden's namesake father was a white supremacist in Arkansas who led a group that "tried to block the desegregation of Little Rock High School."
Whitlock by the way, did not challenge the accuracy of these claims -- only complained that they were reported. He did, however, complain about one other claim, that Pruden had been fired by a publication in the 1970s for manufacturing quotes, scoffing at the Post's attribution of this to "some accounts." If Whitlock had bothered to do a quick internet search, he would have found that this was apparently first reported by the SPLC in 2003.
Posted by Terry K. at 6:16 PM EDT