CNS Editor Still Has Trouble Blaming Trump for Rising Federal Deficits
Topic: CNSNews.com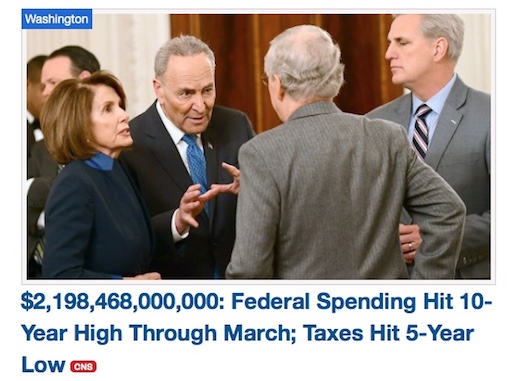 We've documented how CNSNews.com editor in chief Terry Jeffrey loves to fret about rising deficits and national debt, but is much more reluctant to pin the current situation on President Trump Republicans than he was about blaming Democrats when the president was named Obama. That reluctance hasn't really stopped, despite the occasional dose of reality.
A March 26 article by Jeffrey fretted: "The federal government spent $1,822,712,000,000 in the first five months of fiscal 2019, the most it has spent in the first five months of any fiscal year since 2009, which was the fiscal year that outgoing President George W. Bush signed a $700-billion law to bailout the banking industry and incoming President Barack Obama signed a $787-billion law to stimulate an economy then in recession." Even though that spending occurred under Trump, Jeffrey never blames him or his fellow Republicans -- indeed, rather than a picture of Trump, his article is illustrated with a shot of Obama and Bush.
And Trump is mentioned only in passing, in the second-to-last paragraph of the 25-paragraph article, when Jeffrey paraphrases a government official who justified lower corporate tax revenue -- one key reason why deficit spending is up -- by stating that "the Tax Cuts and Jobs Act signed by President Trump in December 2017 was understood to be frontloaded in that corporations early on would take advantage of the new expensing rules to build their businesses."
Jeffrey similarly stated in an April 10 article that "The federal government spent $2,198,468,000,000 in the first six months of fiscal 2019 (October through March), which is the most it has spent in the first six months of any fiscal year in the last decade, according to the Monthly Treasury Statements." This time, however, Jeffrey doesn't mention Trump at all, despite this massive deficit spending happening under his watch. The accompanying picture, meanwhile, is not of Trump but a stock photo of Democrats Nancy Pelosi and Chuck Schumer and two other unidentified politicians. Jeffrey did not explain why the photo includes people who weren't directly responsible for the situation he's complaining about.
The tagline at the end of both of Jeffrey's articles reads: "The business and economic reporting of CNSNews.com is funded in part with a gift made in memory of Dr. Keith C. Wold." If Jeffrey is making dishonest points with his funded reporting, it would seem that that gift money is being wasted.
Posted by Terry K. at 1:25 AM EDT