NewsBusters Blogger Thinks Roy Cohn Was A Good Guy
Topic: NewsBusters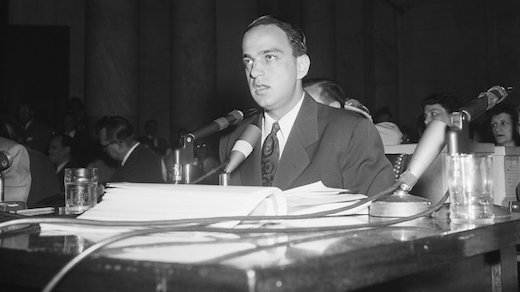 In a March 29 NewsBusters post, Mark Finkelstein complained that a "bitter" Joe Scarborough said that President Trump found his "own Roy Cohn" in Attorney General William Barr. Finkelstein then explained what he thought was the reason liberals hate Cohn so much: "In liberal-speak, Roy Cohn is a synonym for "someone we really hate." After all, he committed the egregious sin of successfully prosecuting the Rosenbergs, communist spies who worked to divulge America's nuclear secrets to the Soviets at the height of the Cold War."
Um, no, Mark. It's more that Cohn was Joe McCarthy's henchman in purging alleged (but not necessarily proven) communists from federal jobs, then followed that up with working to purge alleged (but not necessarily proven) homosexuals from federal jobs despite being a closeted homosexual himself. He was disbarred shortly before his 1986 death from AIDS for various unethical deeds. Cohn was also a mentor to, and attorney for, a young Donald Trump -- and such an influence that President Trump once lamented, "Where's my Roy Cohn?"
A couple days later, Alex Christy similarly took offense to Scarborough likening Barr to Cohn, but offered a different defense, insisting that Scarborough "may have bungled his analogy, because the real McCarthyites were people like Scarborough who saw Russian agents or Manchurian candidates behind every corner."
Posted by Terry K. at 9:57 AM EDT