What LGBT Stuff Is The MRC Freaking Out About Now?
Topic: Media Research Center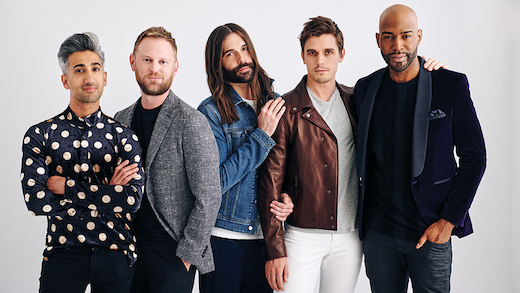 Rebecca Downs thought that the TV show "God Friended Me" was "pretty well behaved" until it introduced a lesbian character who was the daughter of a Episcopal pastor, and was upset that the show used "the ever increasing acronym to describe the movement" -- the offending letters being LGBTQIA. Downs then complained that the Christian denomination in question is actually gay-friending, sneering that the show "was so eager to lecture about the issue of homosexuality in the Christian church that they didn't even bother to look into it. Perhaps the show should have accurately addressed that, rather than adding all the extra letters to the LGBT acronym."
Gabriel Hays expressed his freakout by invoking LGBT stereotypes as he got all huffy about the "Queer Eye" stars visiting Capitol Hill and mocking the Democrats who met them as substance-free:
Famous gay DIY style gurus, theQueer Eye for the Straight Guy boys hit the D.C. circuit on Thursday April 4, hoping to meet some of our nation's great legislative leaders. They settled for Alexandria "Three Chambers" Ocasio-Cortez, and Nancy "Clapback" Pelosi.

Our Republic may be suffering, but at least we know the Instagram photos are sure to be fabulous. (This second version of Queer Eye streams on Netflix.)

Huffpost was all aglow with the knowledge that TV's greatest queens were getting a tour of the nation's capital from Democrat queens.

[...]

For her part, Ocasio-Cortez thanked the Queer Eye crew and chirped her agenda: "Thank you for visiting and helping us push for the #EqualityAct, & be there to watch Congress pass the Violence Against Women Act & War Powers Resolution to end U.S. involvement in Yemen." Like we said, style really beat up on substance that day.
Karen Townsend complained that the new season of "Chilling Adventures of Sabrina" invoked "the transgender agenda" by... having a "gender non-conforming" female now identify as a boy.Townsend didn't explain howmerely having a transgender character equates to pushing an "agenda" (does a TV show that has a Christian character mean it's pushing a "Christian agenda"?), but she went on to whining that "Normalizing transgender teens... should not be seen as normal for impressionable teens. High school is hard enough as it is."
Speaking of whining, Tim Graham was mad that a Catholic priest refused to hate Pete Buttigieg for being gay and, thus, "heretical" to conservative Christianity:
CNN loves "progressive" Christians like openly gay Mayor Pete Buttigieg and his insistence that he's a "devout Christian," while Vice President Mike Pence is all wrong. On CNN Friday, Brooke Baldwin brought on two guests to repeat all the "progressive" talking points. Sadly, one of them was a Catholic priest, CNN commentator Fr. Edward Beck.

Wouldn't viewers expect a Catholic priest to explain why traditional Christians who follow the Scriptures believe that homosexual behavior is sinful? Instead, Father Beck, fresh from a Buttigieg interview, just repeated all of Mayor Pete's talking points like a press secretary.
Hays returned to spew more mocking anti-gay stereotypes as he melted down over the thought that Marvel is creating superheroes that aren't heteronormative:
Phase II of the Marvel comic book cinematic universe is going to involve a few less of our classic superheros in favor of a bold new array of diverse and inclusive characters. Yes, Marvel's going a lot more ethnic, and a lot more gay because what's cooler than finding out that your new favorite Avenger enjoys his skintight latex suit for far more than just crime-fighting purposes?

[...]

Marvel is already in pre-production on another film, The Eternals, starring Angelina Jolie, and super lefty Kumail Nanjiani. Feige's ideas for finding something "really different and special" involve wrangling up "a gay Asian male lead in what will be their first openly gay character."
Where is "super lefty" on the MRC's spectrum? Is it farther to the left of "left wing" and "far left"?
Posted by Terry K. at 10:43 AM EDT