MRC's Bozell & Graham Are Triggered By The Dictionary
Topic: Media Research Center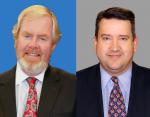 The Media Research Center's Tim Graham and Brent Bozell spend an entire April 12 column raging at ... the dictionary because it added the term "white fragility." No, really:
One of strangest developments in today's Internet culture is how website dictionaries, which one might presume to be objective, have dabbled in "woke" leftist politics as a way of drawing clicks.

USA Today reporter Jessica Guynn, who explains that her job is to explore how the digital world can "amplify bias and widen disparities," delighted in reporting how the term "white fragility" has been added to dictionaries as a result of racial discussions on social media.

Sociologist Robin Di Angelo, one in the endless line of perpetually bored, arrogant and/or ignorant "experts" on race, coined the term "white fragility" in 2011. It was overlooked initially (and for good reason: It's stupid). But naturally, it has picked up steam along with the political career of Donald Trump. After Trump won the presidency in 2016, the Oxford Dictionaries put the term on its short list for word of the year. Last week, it was added to Dictionary.com, defined as "the tendency among members of the dominant white cultural group to have a defensive, wounded, angry, or dismissive response to evidence of racism."

For the love of God. Really?
The two then act out some of that white fragility:
White men can never challenge "academic data" about racism in diversity training sessions, or anywhere else. "Oppressed groups" are always presumed to have the upper hand with evidence ... because they're "oppressed." The left is always trying to stack the deck and smother debate, and crying racism is a huge favorite.

The time has come, another expert told USA Today, where people are "interrogating the concept of whiteness." Somehow these people have no idea that they are driving voters right into Donald Trump's camp with their constant accusations of racism, sexism, homophobia, xenophobia and the whole dictionary of bigotries.

The only way out is to renounce your whiteness. We officially declare ourselves to be American Indians (like Sen. Elizabeth Warren) and identify as oppressed.
Thus proving that the concept is real and deserves to have a dictionary term to describe it.
Posted by Terry K. at 9:03 PM EDT