MRC Sports Blogger Repeatedly Triggered By 50-Year-Old Protest
Topic: NewsBusters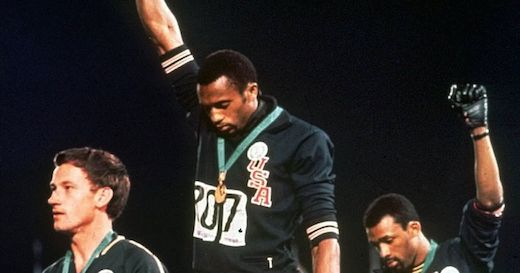 Colin Kaepernick is not the only athlete about whom mysterious NewsBusters sports blogger Jay Maxson goes into regular freak-out mode over. He (or she) is also triggered by something that happened 50 years ago: the raised-fist salute by medal-winning U.S. sprinters on the podium at the 1968 Olympics.
Last October, Maxson fumed when Kaepernick and the sprinters were mentioned in the same breath, dropping the term "social justice warriors" for both of them, which is apparently the most serious thing Maxson can think of to call them:
As the 50th anniversary of the protest-marred 1968 Olympic Games nears, the New York Daily News' Carron J. Phillips and Kareem Abdul-Jabbar are glorifying Colin Kaepernick, as well as the two disgraced sprinters who staged a black power salute during the national anthem in Mexico City. The International Olympic Committee stripped Tommie Smith and John Carlos of their medals and expelled them from the Olympic Village. A 1968 headline in the Evening News declared, "Games are Rocked by Black Power." Media reporting has shifted 180 degrees since then, as many reporters sympathize with radical social justice warriors.

[...]

In the decades since then, the sprinters have been turned into heroes by the Left. There's a statue honoring them in California. President Barack Obama celebrated them in the White House. They are the subjects of documentaries and invited, as heroes, to speak on college campuses.
Maxson ranted in another post from October:
October 16 marked the 50th anniversary of the 1968 Olympic Games protest by U.S. sprinters Tommie Smith and John Carlos. Their black power salute on the medal stand at Mexico City angered many Americans and divided the media. But today, the united American media celebrates them as royalty. Media treat another athlete disliked by many, Colin Kaepernick, as the successor to Smith and Carlos as a social justice icon.

[...]

Today one is hard pressed to find any opposition to Kaepernick and other SJW protesters. When he started protesting during the national anthem in 2016, he said, "I am not going to stand up to show pride in a flag for a country that oppresses black people and people of color."
In February, Maxson was still ranting, complete with another SJW reference:
Former U.S. Olympic athletes Tommie Smith and John Carlos shocked with black power salutes at the 1968 Summer Games in Mexico City. They were sent home in disgrace then, but now that the media has a love affair with social justice warriors like Colin Kaepernick, Smith and Carlos are treated like heroes and adorned with honors by the progressive, social justice crowd. The Golden State Warriors saluted Smith during a game Wednesday, and visiting San Antonio Coach Gregg Popovich predicted that Kaepernick, too, will become greatly admired.

[...]

But, hey, it's 2019 and social justice warriors are cool now! No apology, no mea culpa are required in the Left's world of low standards. So then, in the far-, far-out world that is the Bay Area, Smith received a jersey from the Warriors in recognition of Black History Month.
And Maxson was still at in in an April 7 post:
For many Americans, social justice warriors in sports uniforms have disrespected America and turned them away from sports. The Nation's Dave Zirinhas made a slobbering career of apologizing for and glorifying these malcontents. He's written books on 1968 Olympic protester John Carlos and radical NFL player Michael Bennett. He staunchly defends Colin Kaepernick and others who politicize sports, too. Zirin is the "parallel universe," and this week he bitterly complains that Carlos and fellow '68 Olympic protester Tommie Smith are being disrespected by their alma mater, San Jose State University.

Fifty years ago, Smith and Carlos were America's top sprinters. In the 1968 Summer Olympics in Mexico City they won two of the three medals in the 200-meter dash. On the victory stand, during the playing of the Star Spangled banner, they looked down at the ground and raised their gloved hands to the air in protest to racism. Those in the stadium and watching around the world were stunned. The International Olympic Committee booted them out of the Olympic Village and sent them home in disgrace.

America's disgrace became a "noble" cause for far Left writer Zirin and San Jose State U. He wrote the book, The John Carlos Story: The Sports Moment That Changed the World. San Jose State built statues to the two malcontent sprinters, but Zirin claims the two SJWs are now being treated horribly by the university.
Maxson noted Zirin quoting someone saying that San Jose State University removing the track where Carlos trained and replacing it with a parking lot was "another sad day for the Spartans," Maxson huffed: "A sad day for the Spartans and a sadder reminder for Americans offended by the acts of Smith and Carlos."
You know, if Maxson keeps getting so triggered by events that happened 50 years ago, maybe he's the one in a parallel universe.
Posted by Terry K. at 11:30 AM EDT