MRC Goes On An AOC-Bashing Spree
Topic: Media Research Center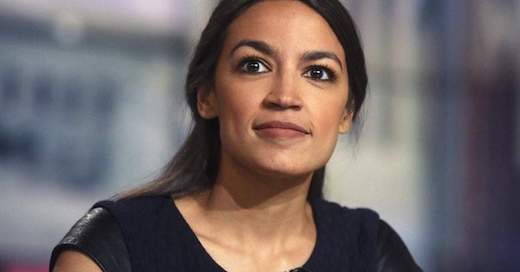 CNSNews.com isn't the only Media Research Center outlet dedicated to attacking Democratic Rep. Alexandria Ocasio-Cortez. The MRC itself is targeting her as well, alternating over the past few weeks between complaining that she's getting media attention and attempting to justify right-wing media attention on her as legitimate.
Scott Whitlock complained about a "gushing cover story" on Ocasio-Cortez in Time, whining that the writer "cheered" and "hyped" her but "found no time to mention the cow farting and airplane elimination section that was initially part of the Green New Deal." Whitlock referenced cow flatulence two other times in his item, showing his goal is to make AOC look ridiculous and not to fairly report on her.
Kristine Marsh groused that during a "nauseating" appearance on "Late Night With Seth Myers," Ocasio Cortez was allowed to "freely tear into her conservative critics: and that Myers "invited the Democrat to take a swipe at both Fox News and her Republican colleagues for believing in 'conspiracy theories' surrounding her." Marsh then tried to reframe one lame right-wing attack as legitimate: "She shared a story of how a Republican asked her if she had been paid ten million dollars by Netflix. The pair laughed at the audacity of the question, but Cortez didn't clarify that Netflix had in fact paid ten million dollars to air a documentary about Ocasio-Cortez, so the story wasn't made up out of thin air." But it's still false, isn't it, Kristine?
Curtis Houck tried to deflect from the idea that he and his fellow conservatives are obsessed with AOC and that it's really liberals who are obsessed, as demonstrated by the Time article:
Whether you're media types like Brian Stelter or outlets such as Vanity Fair, it's Fox News and right-of-center news outlets that have an obsession with socialist Congresswoman Alexandria Ocasio-Cortez (D-NY). But segments like one on Thursday's Last Word and cover stories like the latest issue of Time by lefty writer Charlotte Alter (and daughter of longtime liberal journalist Jonathan Alter) prove otherwise.
Christian Toto (shouldn't he be reviewing movies or something?) went ballistic on AOC, whining that people won't make fun of her to his satisfaction:
Rep. Alexandria Ocasio-Cortez is the greatest gift to political satirists since a certain Apprentice star hit the scene.

The Democratic Socialist is a gaffe machine, spewing lies and distortions on social media and via interviews. She uses the word "like" more often than Papa Smurf says "Smurf." That's not even getting to her signature policy achievement, the Green New Deal.

If comedians ever tire of Trump jokes involving orange skin, huuuuge promises or small hands, she's the next comedy revolution.

Only the vast majority of comics won't lay a glove on her. Which brings us to Stephen Colbert.
Toto then served up the usual right-wing complaint that colbert "mock[ed] conservative talkers for attacking the Congresswoman. It's giggle-snort stuff, except the talkers are simply repeating what she said."
Brad Wilmouth got huffy in defending right-wing attacks on AOC as completely deserved:
On Saturday's CNN Newsroom with Ana Cabrera, CNN's Nia-Malika Henderson claimed that the reason freshman New York Democratic Congresswoman Alexandria Ocasio-Cortez is so often attacked by conservatives is because she is "incredibly charismatic," "a young Latina," and "incredibly eloquent."

The CNN reporter named everything except the actual reason -- her self-identified "socialist" views were so popular with her party's base that she defeated an entrenched Democratic incumbent.
And terrible media critic Tim Graham was in full whine mode while pretending to be "fact-checking the fact-chekers," weirdly complaining that a "recent rash of Alexandria Ocasio-Cortez defense items" on fact-checking site Snopes means "it's a liberal clickbait site." Graham smugly concluded: "We have rated these Snopes 'fact checks' as Half Baked."
Graham also took offense to another thing Snopes did that had nothing to do with fact-checking: "It's quite funny, after all this, that on April 14 in a news section, Snopes posted an AP story headlined 'Study: Fox News Is Obsessed with Alexandria Ocasio-Cortez.' As if liberal outlets are not!" The article repeated a claim from liberal watchdog group Media Matters that Ocasio-Cortez "was mentioned 3,181 times on Fox News Channel and its sister Fox Business Network during the six-week period of Feb. 25 to April 7, or just under 76 times a day." Needless to say, Graham offered no evidence that any "liberal outlet" provided anywhere near the same amount of attention to AOC.
Posted by Terry K. at 9:30 AM EDT