MRC Mad Fox News' Smith Shut Down Fact-Free Speculation About Notre Dame Fire
Topic: Media Research Center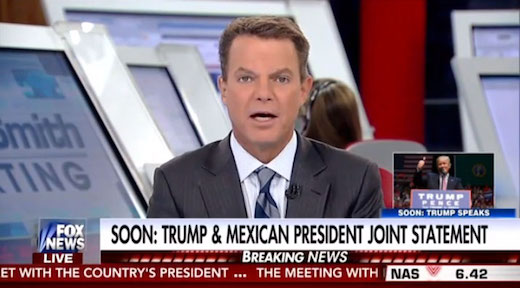 The Media Research Center hates Shepard Smith for being the only person at Fox News who reports straight news and doesn't veer off into the right-wing bias that pollutes the rest of the channel. In an April 15 post, the MRC's Scott Whitlock actually got mad at Smith for shutting down a guest's speculation that the fire at Paris' Notre Dame Cathedral was set by Christian-haters:
Fox anchor Shepard Smith on Monday melted down when a French guest attempted to explain the ongoing attacks, violence and vandalism against French churches. Talking about the fire engulfing Notre Dame, where the cause is unknown, guest Philippe Karsenty began, "For the past years, we've had churches desecrated each and every week all over France."

Just seconds after his guest was introduced, Smith immediately jumped in and reprimanded, "Sir, sir, sir, we're not going to speculate of the cause of something that we don't know! If you have observations or you know something, we would love to hear it." After Karsenty attempted to respond, Smith shut down the whole interview: "No, sir. We're not doing that here. Not now. Not on my watch! Philippe Karsenty, it's very good of you to be here."

Twenty minutes later, Smith came back to concede the point about violence against French Christians, allowing, "There have been a number of attacks on Catholic churches in the Paris area. But those two things [the Notre Dame fire and past incidents], we are not connecting at this moment."
Whitlock then lectured that incidents of church vandalism in France "doesn't mean, in any way, that's what is happening in Paris. And people shouldn't recklessly speculate. But neither should Smith decide a guest is unlistenable simply because he tries to inform an American audience about what's going on in France."
But the guest was trying to baselessly link two things that, as further investigation is showing, are not connected at all. In short, Whitlock is mad for not giving space to a conspiracy theory -- hardly responsible "media research."
Posted by Terry K. at 6:24 PM EDT
Updated: Tuesday, April 23, 2019 6:27 PM EDT