MRC's Latest Fox News-Shaped Blind Spot
Topic: Media Research Center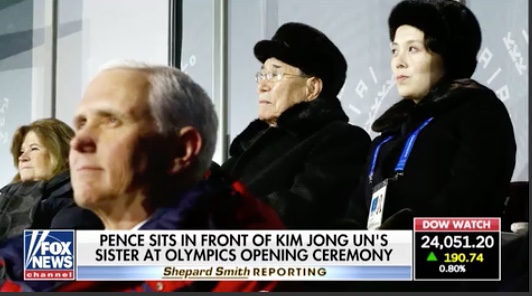 The Media Research Center spent a lot of time complaining that media outlets were surprised that North Korean dictator Kim Jong Un's sister, who represented the country at the opening ceremony of the Olympics, wasn't an ogre or a terrible person. Nicholas Fondacaro, for instance, whined that "Despite the fact her job entailed censorship and glorifying public executions, numerous outlets had touted her for 'stealing the show,' winning 'diplomatic gold,' being the 'Ivanka Trump of North Korea,' and hyping the extremely creepy North Korean cheerleading group."
But there was one media outlet curiously missing from the MRC's scorn, and we're pretty sure you can figure out what it is.
A Feb. 9 video on the Fox News website carried the headline "Kim Jong Un's sister steals show at Olympic ceremony." Repoter Greg Palkot stated: "Stealing the show today, the sister of the North Korean leader Kim Jong Un. She was interacting and very friendly whith South Korean president Moon, especially with a unified Korean team." But that segment never got singled out by the MRC.
In the midst of a Twitter argument with the MRC's Fondacaro and Fox News media reporter Brian Flood, CNN media reporter Oliver Darcy pointed out that both Fox and the MRC omitted the Fox segments fawning over Kim's sister from its attacks on similar coverage elsewhere. In a poor attempt at deflection, Fondacaro wouldn't talk about why the MRC tave Fox News a pass, instead huffing that Darcy was "trying to make it about Fox News," then huffed further, "Quit trying to change the subject." Darcy helpfully added: "I don't think the MRC is allowed to criticize fox!"
True dat. The MRC's Fox News-shaped blind spot just keeps getting bigger.
Posted by Terry K. at 1:25 AM EST