CNS Censors HUD Secretary's Prolifigate Spending Habits
Topic: CNSNews.com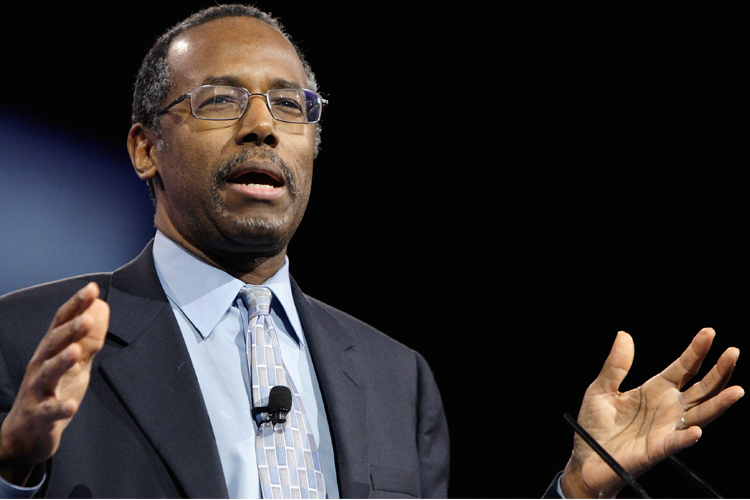 Editor in chief Terry Jeffrey is CNSNews.com's go-to guy on federal spending, particularly of the wasteful variety. A couple weeks ago, for instance, Jeffrey penned an entire article about how "The federal government is funding a clown school located in House Minority Leader Nancy Pelosi's San Francisco-based congressional district that has classes and workshops on 'Precision Idiocy' and how to act like a 'Buffoon,'" as well as another article about food stamp fraud.
But one of CNS' favorite conservatives, Ben Carson -- CNS llikes it when Carson denigrates the transgender community or invokes God as a Republican supporter -- has been accused of wasteful spending of his own as head of the Department of Housing and Urban Development.
Reports have surfaced that Carson attempted to spend $31,000 on a dining set for his office suite, while another HUD oficial reportedly said that "$5,000 will not even buy a decent chair." A HUD employee who complained about the expenses was reportedly demoted and reassigned to a new job.
That's the kind of wasteful spending that should be up Jeffrey's alley. But neither he nor anyone else at CNS has reported a word about this to their readers.
Funny how Jeffrey's only interested in wasteful spending when it involves people or causes he doesn't like. But that's a pattern for the obsequiously pro-Trump CNS under Jeffrey; as we've already documented, CNS was days behind the rest of the media in reporting on HHS Secretary Tom Price's extravagent spending on private charter flights, waiting until literally an hour before he resigned over it to do its very first article.
Posted by Terry K. at 3:33 PM EST