CNS Is A Little Too Cool With Putin's Re-Election
Topic: CNSNews.com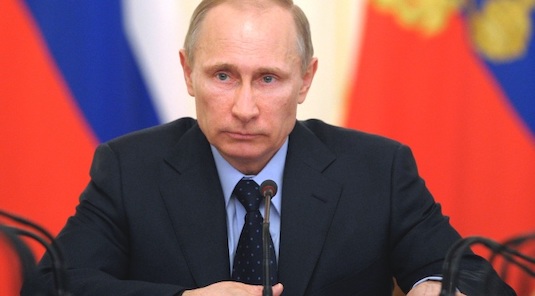 CNSNews.com reporter Patrick Goodenough plays it weirdly straight in a March 18 article on the Russian elections:
As widely anticipated, Vladimir Putin has won another six-year term as president of Russia, securing his biggest victory yet in this his fourth presidential election campaign.

With 99 percent of ballots from the country's 97,000 polling stations counted early Monday morning, Putin had won 76.6 percent of the votes, according to the Central Elections Commission (CEC).

His past presidential election victories garnered him 64 percent in 2012, 72 percent in 2004 and 53 percent in 2000.

With calls for a boycott and expectations of voter apathy due to the absence of any credible opposition among the seven challengers to the incumbent, a key factor in this year's election has been voter turnout.

[...]

TASS reported that larger numbers of Russians abroad voted than had been the case in previous elections. At the Russian Embassy in London, where headlines have been dominated this month by allegations that Russia was behind the attempted murder by nerve agent of a former Russian spy, more than 3,400 votes were cast shortly before polls closed, it said.

The foreign ministry said earlier than almost 400 polling places were set up in 144 countries to offer some 1.8 million Russians living abroad the chance to vote.

[...]

Provisional results give the Communist Party's Pavel Grudinin 11.8 percent of the votes in second place, ahead of Vladimir Zhirinovsky of the ultra-nationalist Liberal-Democratic Party with 5.7 percent.

The one opponent thought likely to offer Putin any realistic opposition, Alexei Navalny, was disqualified from running by the CEC, as a result of an earlier conviction on fraud charges which he and his supporters viewed as trumped-up.
That's the only reference to Navalny in the article -- which is strange, given that Goodenough in December wrote an article about Navalny's disqualification, and in January wrote an article featuring Republican Sen. Tom Cotton denouncing the jailing of Navalny after a anti-Putin rally, saying that "Every time [Putin] imprisons an opposition leader, it only shows the world just how corrupt and oppressive his regime truly is." So he was a position to add more information about it; instead, he provides only a hint of the rigging that took place to ensure Putin's re-election.
The same day, Goodenough wrote an article that devotes its first four paragraphs to how Putin denied involvement in the poisoning of a former Russian military official and his daughter in London, oddly waiting until the fifth paragraph that "The comments by Putin on the day of a major election victory directly refuted a claim made by British Foreign Secretary Boris Johnson hours earlier" that Russians were involved.
This evenhandedness is at odds with the rest of what passes for CNS' "news" coverage, which is heavy on one-source wonders designed to push a right-wing, pro-Trump narrative.
Posted by Terry K. at 7:30 PM EDT
Updated: Tuesday, March 27, 2018 7:31 PM EDT