Another Bogus MRC Coverage Study
Topic: Media Research Center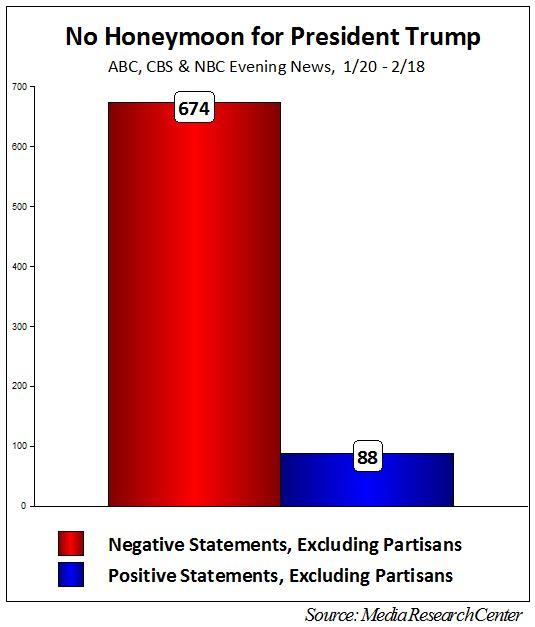 A March 2 post by Rich Noyes and Mike Ciandella describes the Media Research Center's latest so-called media research:
A new American President is always a big story, but TV news is obsessed with the Trump administration — and not in a good way.

In the first 30 days (January 20 to February 18), our analysts determined that the President and his team were the subject of 16 hours of coverage on just the Big Three evening newscasts. This equates to more than half (54%) of all of the news coverage during this period.

While most new presidents enjoy a media honeymoon, the tone of Trump's coverage was nearly as hostile (88% negative) as we found during last year's presidential campaign (91% negative).

Our measure of media tone excludes soundbites from identified partisans, focusing instead on tallying the evaluative statements made by reporters and the non-partisan talking heads (experts and average citizens) included in their stories. In their coverage of Trump's first month, the networks crowded their stories with quotes from citizens angry about many of his policies, while providing relatively little airtime to Trump supporters.
That last paragraph is the only described methodology used, and no further detail about the results are provided -- which are big warning signs that this study is bogus.
Another sign: the binary nature of the provided choices. "Negative" and "positive" are inherently subjective descriptions, and it defies logic that the coverage the MRC covered could only be described as one or the other. There's a high likelihood that Noyes and Ciandella are portraying negative news reported neutrally as "negative," which skews their study.
Actual media researchers Stephen Farnsworth, S. Robert Lichter and Roland Schatz pointed out that Trump news coverage has skewed negative even from the Trumpophiles at Fox News. Their study also conceded that the majority of Trump coverage was neutral -- again, a category the MRC failed to include.The MRC, of course, would never conduct such "research" on Fox News because 1) it would prove the channel's right-wing bias, and 2) doing so would likely jeopardize MRC employees' regular appearances on it and sister channel Fox Business.
The researchers also note tha Trump's attacks on the media as the "enemy of the American people" also contributes to the negative coverage as well: "This puts journalists in a difficult position. If they challenge Trump at every turn, they may appear to be the opposition he claims they are. But if they conduct business as usual, this could simply let Trump be Trump at their expense."
Media Matters' Eric Boehlert adds that most experts agree that the first month of Trump's presidency has been unusually chaotic, an environment that leads to news that the MRC is predisposed to describe as "negative." In other words, a significant amount of that "negative" coverage was created by Trump himself -- something else for which the MRC fails to account.
Instead, Noyes and Ciandella engage in the MRC's rote media-bashing, whining about the supposed "anti-Trump editorial tone" after CBS anchor Scott Pelley accurately reported that Trump made "statements divorced from reality."
In sum: This is more unscientific partisan-motivated bogus "research" from an organization sadly known for it.
Posted by Terry K. at 8:27 PM EST
Updated: Tuesday, March 7, 2017 8:28 PM EST