WND's Newest Lie: Loretta Lynch Is 'Tied to Terrorists, Drug Cartels'
Topic: WorldNetDaily
WorldNetDaily loves the big lie -- i.e. Obama was born in Kenya and other falsehoods about his "elibibility -- sprinkled amidst numerous smaller lies that come from straight from the top.
WND went the big-lie route in the subhead of a March 14 article by Garth Kant about Loretta Lynch's nomination for attorney general: "Attorney general nominee tied to terrorists, drug cartels."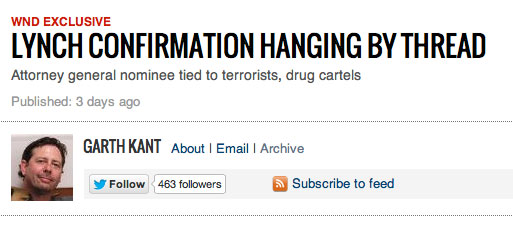 That is a bald-faced lie, and WND knows it.
Here is the evidence Kant presents purporting to back up that false claim:
But behind the scenes, the sudden change of hearts also may be due to a WND expose about allegations that Lynch covered-up money laundering by drug lords and terrorists.

WND has chronicled in great detail charges that Lynch, in her capacity as U.S. Attorney for the Eastern District of New York in 2012, arranged a mere slap-on-the-wrist settlement with the world's second-largest bank, HSBC, for laundering billions of dollars for Mexican drug cartels and Middle Eastern terrorists.

The wrist-slap $1.9 billion fine paid to the U.S. government, and an admission of "willful criminal conduct," allowed HSBC to enter into a "deferred prosecution" settlement, which ended the investigation and stopped the filing of criminal charges.
At no point has WND ever documented that Lynch is "tied" to terrorists or drug cartels. Lynch's work to achieve a monetary settlement instead of a criminal prosecution does not equal "covering up" for "drug lords and terrorists." And HSBC's $1.9 billion fine is hardly a "wrist-slap" as Kant claims; it was a record fine at when it was imposed in 2012.
Kant is so completely down with the big lie that he repeated it in the body of his March 16 article, referencing "WND's revelations about Lynch's ties to terrorists and drug lords."
WND has been pushing Lynch's link to the HSBC settlement in a desperate attempt to promote another lie: that it broke the HSBC story. As we've documented, it didn't -- WND's initial reports on HSBC actually acknowledged earlier reporting.
But with this claim, WND appears to be blowing past your garden-variety lie and straight to libel. Lynch should check with a lawyer to see if she has a case -- and WND might want to consult an attorney to formulate a defense.
There are many good reasons nobody believes WND, and this kind of deliberate, malicious libel is just one of them.
Posted by Terry K. at 1:14 AM EDT
Updated: Tuesday, March 17, 2015 1:19 AM EDT