Oops! WND's Klein Attacks The Wrong Loretta Lynch
Topic: WorldNetDaily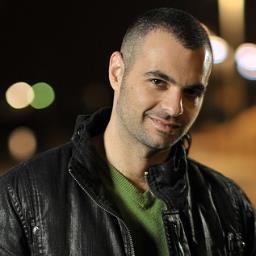 Aaron Klein thinks he has a big scoop in a Nov. 9 WorldNetDaily article:
Loretta Lynch, President Obama's pick to become the next attorney general, once worked for Bill Clinton's campaign, where it turns out she co-authored a memo aimed at discrediting alleged Clinton mistress Gennifer Flowers and stopping any news coverage of her claims.

Flowers is the model and actress who claimed publicly to have had a 12-year-long affair with Clinton.

[...]

Archived documents show that Lynch, together with campaign operative Nancy McFadden, co-authored a confidential Feb. 16, 1992, campaign memo entitled "Possible Investigation Needs."

Under a section entitled, "Defensive Research: Tying up ends and seeing ahead," the memo's first item addresses the need to discredit one "GF," which from the context was a clear reference to Gennifer Flowers.

Reads the Lynch-McFadden memo: "Exposing GF: completely as a fraud, liar and possible criminal to stop this story and related stories, prevent future non-related stories and expose press inaction and manipulation."
Just one little problem: This is not the correct Loretta Lynch.
As Media Matters pointed out when Breitbart's Warner Todd Huston (a former NewsBusters blogger) made the same mistake, the Loretta Lynch who worked for Clinton's campaign is a California-based attorney (and white), while the Lynch nominated as attorney general is a federal prosecutor in New York (and African-American).
It took two people to screw this up, by the way: Klein's article credits "research by Brenda J. Elliott." Elliott is Klein's longtime collaborator and co-author.
Here's a screenshot of Klein's article, just in case WND decides to disappear it: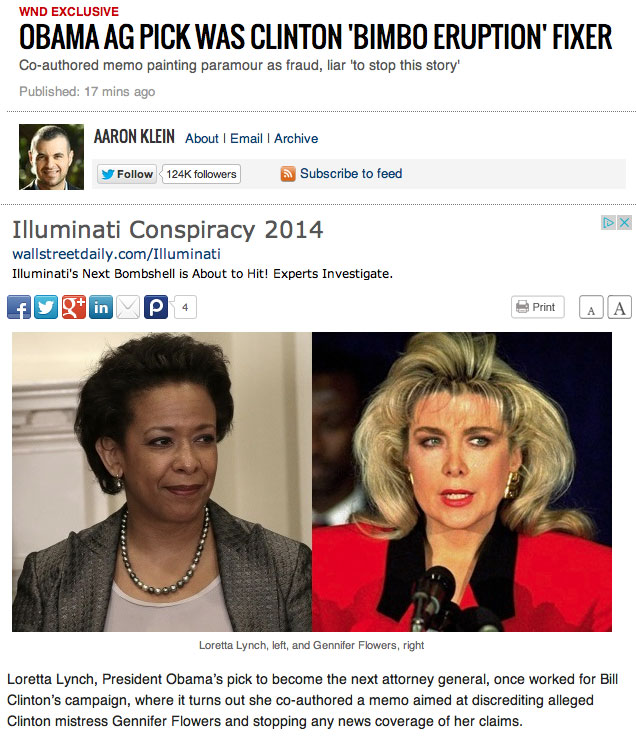 UPDATE: This is hardly the first time Klein has committed such sloppy errors. In 2004, Klein falsely claimed that the charity organization Islamic Relief was linked to terrorists and fraudulently raised money for nonexistent orphans. And in 2006, he falsely implied that Fox News paid a ransom to free two of its journalists kidnapped in Gaza.
UPDATE 2: WND has quietly deleted Klein's article without explanation or correction. That's why we took the screencap above.
Posted by Terry K. at 6:05 PM EST
Updated: Sunday, November 9, 2014 6:59 PM EST