MRC Trolls CNN Anchor On Media Bias
Topic: Media Research Center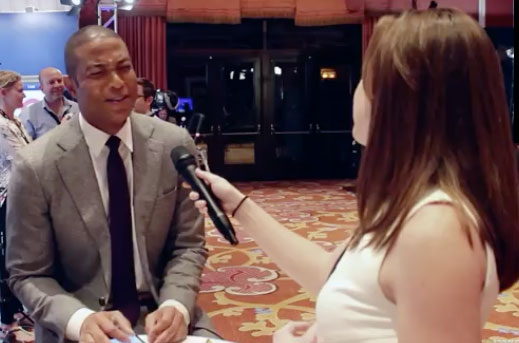 Not content with trolling members of Congress to provoke them into saying something on camera it can use to further its right-wing agenda, the Media Research Center is now trolling the media figures whose existence it despises.
An Oct. 17 NewsBusters post by "NB Staff" (though listed in the post's URL as written by Tim Graham) touts how "new MRCTV correspondent Brittany M. Hughes asked CNN primetime host Don Lemon if the media tilts left. He made faces like the question was preposterous, and denied any such thing." NewsBusters then issued its apparent coup de grace:
So MRCTV followed up with a collection of CNN clips from our archives that demonstrate that left-wing opinion often bursts forth from CNN anchors and their very political contributors (ahem, Paul Begala):
but that clip package demonstrates how thoroughly deceptive the MRC's definition of "liberal bias" is. As stated, the clips do indeed show people expressing liberal opinions. But mere expression is not bias, as the MRC claims. A liberal like Begala or Sally Kohn (who's also in the clip package) invited onto CNN to express his opinion is expected to express one that's liberal. For the MRC to claim that this is bias is ridiculous.
The clip package also includes "CNN anchors" expressing opinions, but some like Piers Morgan -- who hasn't been on CNN in quite some time -- are not news anchors. So, again, the MRC fails in a logical definition of news bias.
Further, one of the clips of Morgan quotes him as saying, "Limbaugh's disgusting comments are the work of an archaic old dinosaur living in a warped, ugly swamp ... Shame on you, Rush Limbaugh." There's an edit there, one that removes the context of Morgan's remarks (and, again, Morgan hosted an opinion show, not a "news" show). Here's the full comment, with the portion the MRC deleted in italics (though we found it elsewhere at the MRC):
"Limbaugh's disgusting comments are the work of an archaic old dinosaur living in a warped, ugly swamp, who thinks it's okay to degrade decent young women for sport and ratings. Well, it isn't it. Shame on you, Rush Limbaugh."
Yes, Morgan was referring to Limbaugh's three-day rampage of misogyny against Sandra Fluke, to which the MRC responded by, among other distractions, starting an "I Stand With Rush" website.
And MRC boss Brent Bozell was kinda OK with that criticism, conceding it was "fair." Of course, Bozell then proceded to distract from Limbaugh by attacking Morgan for the entirely unrelated offense of having once nice things about Bill Maher. But last time we checked, neither Morgan nor anyone else at CNN set up an "I Stand With Bill Maher" website.
Meanwhile, on Fox News, news anchors joining their conservative guests in regularly serving up right-wing opinion, and the MRC says nary a peep about it. If it was genuinely concerned about news bias, it wouldn't keep quiet.
It seems what the MRC really wants is to censor opinion it doesn't agree with -- that is, it wants liberals off TV. Why else would it be making the ridiculous complaint the mere existence of a liberal commentator expressing a liberal opinion on TV to say is itself an act of "bias"?
Oh, and Lemon's answer to Hughes -- that "if you're liberal, then there's conservative bias, and if you're conservative, you think there's a liberal bias," and that "people are deliberately trying to skew things one way or the other" based on their own beliefs -- was accurate. The MRC is too busy trying to skew things to its own agenda to admit it.
Posted by Terry K. at 4:21 PM EDT
Updated: Monday, October 19, 2015 4:31 PM EDT