MRC Censors Full Story To Brand Bloomberg As Seeking 'Criminal Votes'
Topic: Media Research Center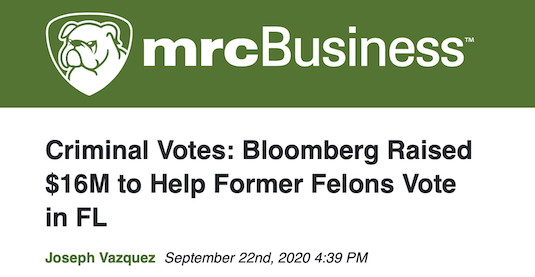 Joseph Vazquez ranted in a Sept. 22 Media Research Center post:
It apparently wasn't enough that liberal cash cow Michael Bloomberg was spending $100 million to help Democratic presidential nominee Joe Biden to win Florida.

Now, the billionaire owner of Bloomberg News is trying to solicit donations to ensure that convicted felons in the Sunshine State are given the chance to vote Biden into the White House.

Bloomberg and his team "have raised more than $16 million to pay the court fines and fees of nearly 32,000 Black and Hispanic Florida voters with felony convictions," according to The Washington Post on Tuesday. The Post said that the point of the effort was to boost "turnout for Democratic presidential candidate Joe Biden."
Vazquez never explains why Bloomberg helping "convicted felons" vote is a bad thing, or why convicted felons should not be allowed to vote at all.Mosdt important, Vazquez censored information about why this was even necessary in the first place. As the Post article he cites summarized:
Florida voters passed a statewide constitutional amendment in 2018 that gave former felons, except those convicted of murder or felony sexual offenses, the opportunity to vote in upcoming elections. The Republican-controlled legislature subsequently passed, and the Republican governor signed, a law that conditioned their return to the voting rolls on the payment of all fees, fines and restitution that were part of their sentence.

Subsequent court challenges upheld the power of the legislature to condition voting rights on the payment of debts by former felons. Judge Barbara Lagoa, who is under consideration by President Trump as a possible replacement for Supreme Court justice Ruth Bader Ginsburg, cast a concurring opinion on the 11th Circuit Court of Appeals upholding the state law requiring payment of debts.

The Republican effort is expected to limit what some viewed as a political benefit to Democrats of the constitutional change, which passed by ballot initiative with 65 percent support.
In short: Convicted felons have the right to vote in Florida -- indeed, were granted the right to do so by an overwhelming majority of Florida voters -- and Republicans conspired to make it as difficult as possible by demanded that all related debts be paid off in addition to completing the sentence.
Again: Vazquez never explains what the problem is. Perhaps he's just into voter suppression. Not a good look.
Posted by Terry K. at 11:08 AM EDT