CNS Hides An Important Fact In Reporting On Rand Paul's Coronavirus
Topic: CNSNews.com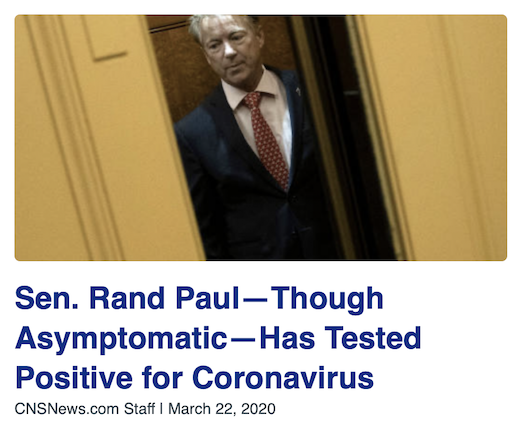 CNSNews.com has long been fans of Sen. Rand Paul over the years -- for instance, we've noted its insistence on quoting Paul on things like Syria, about which he's not necessarily known to have expertise, and we caught CNS writing around criticism of Paul to highlight his (bogus) defense of President Trump during the impeachment saga.
So when Paul announced he has tested positive for coronavirus, CNS served up sympathetic coverage -- with a certain peculiar angle. An anonymously written March 22 article made sure you know that Paul as "asymptomatic," putting it in the headline and twice in the brief article.
The next day, another anonymously written article made that claim again in stating that Paul, "who—although asymptomatic--has tested positive for the coronavirus, put out a statement this afternoon explaining that he had taken the test because he is at higher risk of complications from the disease because his lung was damaged a few years ago when he was attacked by a neighbor." It went on to quote Paul (twice) saying he was asymptomatic.
There's just one problem with that emphasis, though: A person can spread the coronavirus while asymptomatic, and it's entirely possible that Paul did just that before his diagnosis, since he failed to self-quarantine while waiting for test results to come back. Paul was defensive about it, insisting that he "did not meet the criteria for quarantine," then lectured, "Instead of hounding people who got tested and then quarantined themselves, perhaps we need to broaden the testing and quit the finger-wagging."
CNS didn't mention any of that stuff, of course; the latter article simply repeated his insistence that he didn't meet the quarantine criteria.
Posted by Terry K. at 2:53 AM EDT