WND Still Taking Birther Potshots At Obama
Topic: WorldNetDaily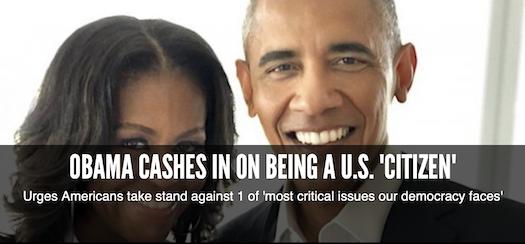 If you played a major role in a fake-news campaign, you likely wouldn't want to remind people of that fact. But then, you're not WorldNetDaily.
WND was the lead cheerleader in the promotion of Obama birther conspiracy theories -- none of which turned out to be true and which likely played a key role in WND's ongoing dire financial situation. Despite the fact that none of its conspiracy theories was ever proven true, WND still can't stop taking shots at Obama about it.
This happened again in a July 1 WND article by Joe Kovacs, which originally carried the scare-quoted headline "Obama cashes in on being a U.S. 'citizen'":
Former President Barack Obama, whose status as a "natural-born citizen" in the United States became a years-long controversy, is now tapping in on his status as a citizen to urge Americans to "take a stand against one of the most critical issues our democracy faces," specifically voting manipulation.

In an email Monday with the subject line "Citizen to citizen," Obama issued a fundraising plea on behalf of the National Redistricting Action Fund.
Of course, Kovacs provides no evidence that Obama is personally "cashing in" on being a citizen; he's simply headlining a anti-gerrymandering group's fundraising pitch. Perhaps that's why the headline was changed to the not-much-better "Surprise! Obama suddenluy fighting voting manipulation," even though Kovacs also made no case for this happening "suddenly."
And Kovacs failed to mention that one big reason birtherism because a "years-long controversy" is because his employer fanned the flames and studiously censored evidence that disproved its conspiracy theories.
WND still isn't acting like a "news" organizaton that deserves to live.
Posted by Terry K. at 12:29 AM EDT