CNS Columnist Defends Anti-Gay Soccer Player
Topic: CNSNews.com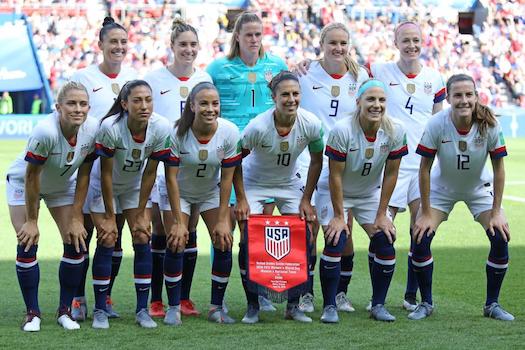 We've noted how the ConWeb has praised soccer player Jaelene Hinkle for blowing up her career because she's so homophobic that she refused a callup to the U.S. women's soccer team so she wouldn't have to wear a rainbow-themed jersey. The latest is John Stonestreet, who wrote in a June 27 CNSNews.com column:
Hinkle's saga began back in 2015 after the Supreme Court decision legalizing same-sex "marriage." Hinkle posted the following on Instagram: "I believe with every fiber in my body that what was written 2,000 years ago in the Bible is undoubtedly true … . This world may change, but Christ and His Word NEVER will."

As you can imagine, this made Hinkle a marked woman, especially among soccer fans who identified as LGBT.

Then, in 2017, Hinkle chose to withdraw from the national team rather than wear a U.S. team jersey sporting rainbow numbers in order to celebrate gay pride.

Hinkle explained her decision, "I just felt so convicted in my spirit that it wasn't my job to wear this jersey … I gave myself three days to just seek and pray and determine what (God) was asking me to do in this situation. If I never get another national team call-up again then that's just a part of His plan, and that's okay. Maybe this is why I was meant to play soccer, to show other believers to be obedient."

Well, her obedience came at a price. Playing for the North Carolina Courage team in the National Women's Soccer League, Hinkle is the recipient of boos and jeers almost every time she touches the ball.

And in the run-up to this year's Women's World Cup, U.S. Coach Jill Ellis invited Hinkle to try out for the team. After three days of workouts, Ellis, who is gay and "married" to her lesbian partner, cut Hinkle, citing "footballing reasons."

Many were skeptical that the best women's fullback in the country—something even her pro-LGBT critics admit—isn't good enough to play on the U.S. Women's World Cup team. According to SB Nation's Kim McCauley, who by the way called Hinkle a "vocal homophobe," "there isn't a better pure tactical fit available [for the U.S. team] than Hinkle."

[...]

Hinkle's saga is only the most recent evidence that American Christians need to develop a theology of getting fired, or if you happen to be in Hinkle's profession, a theology of getting cut from the team.

It's simply more likely than not that we too will face a choice at some point between our career and our convictions. We aren't the first Christians who have had to face this choice, and thank God the choice isn't our life and our convictions, as it is for our brothers and sisters in other parts of the world.

Jaelene Hinkle chose well. Will we?
Stonestreet doesn't mention that there several players on the U.S. women's soccer team who consider themselves Christian and, unlike Hinkle, are not afraid to associate with people slightly different from them. Would Stonestreet argue that these non-hateful Christians did not choose well?
USWNT team member Ashlyn Harris also shot down Hinkle's insinuation that the team isn't welcoming to Christians because it allegedly wouldn't put up with her homophobia: "Your religion was never the problem. The problem is your intolerance and you are homophobic. ... Don't you dare say our team is 'not a welcoming place for Christians'. You weren't around long enough to know what this team stood for. This is actually an insult to the Christians on our team."
Talent is one thing, but team chemistry is another. If Hinkle thinks so little of her would-be USWNT teammates, it would be hard for her to fit in, no matter how good a player she is. Stonestreet appears not to have taken that into account.
Posted by Terry K. at 12:49 AM EDT