Where Are They Now? CNS' 'Protester' Intern Now Writes for Fox News
Topic: CNSNews.com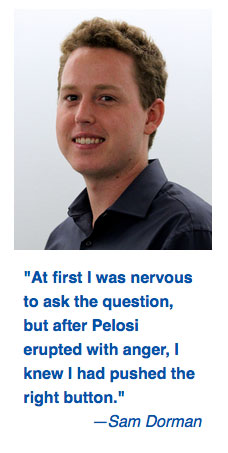 You might remember a few years back that a CNSNews.com intern named Sam Dorman got a bit of attention for asking a anti-abortion gotcha question to Nancy Pelosi that piqued her anger, then stoked right-wing outrage about being described as a "anti-abortion protester" over the question and demanded that he be acknowledged as "a credentialed member of the press" (though he later admitted that his question was designed to provoke hostility toward him). The folks who run CNS, the Media Research Center, then tried to raise money over the manufactured controversy, which told us that the question was, in fact, an act of protest.
Well, it appears Donman has managed to parlay that incident into a career: he's now a reporter for Fox News, which like CNS has similarly blurry lines between reporting and advocacy.
Much of his output is the usual right-wing stenography that woldn't look out of place at CNS; typical is a July 3 piece headlined "Ilhan Omar promotes ex-Hillary aide's unhinged anti-Trump attacks." He also penned a Jun 12 piece falsely privileging "Dr. Alveda King," ignoring the fact that her doctorate is honorary and not earned.
It appears that the MRC granted Dorman an entry into right-wing journalism by helping him manufacture a controversy, and he has exploited that to further his own career. Congratulations, or something.
Posted by Terry K. at 1:07 PM EDT