WND's Malloch Actually Claims His Trump Fanboy Crusade Is 'Moderate and Reasoned'
Topic: WorldNetDaily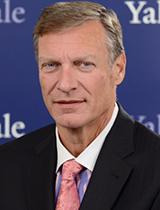 Donald Trump fanboy Theodore Roosevelt Malloch recently went to Canada's Regent College to give a speech, and was aghast that some students criticized said Trump fanboyism. As Malloch described it in his April 21 WorldNetDaily column, "I was treated rudely, disregarded and accused of hate."
Fair enough. But then Malloch asserted that he had endeavored to "write the editorials supporting Trump from a moderate and reasoned perspective." He added: "The idea that my editorials on Trump might be fairly argued and moderately written appears to be antithetical to the far-left Bernie socialists, including former weathermen and now the overtly aggressive Black Lives Matter radicals who populate today's protest marches, mixed together with anarchists from the Occupy movements, as well as those being paid by wealthy socialist forces like Soros to disrupt free speech and cause harm to the very fabric of civility."
OK, stop right there. Malloch is claiming his Trump fanboyism is "moderate and reasoned" and "fairly argued." This is the same guy who:
Malloch went on to sneer at the name of the college's newspaper, noting that it is "named "&c," whatever that means." Well, it's an alternate rendering of "et cetera," something you'd think a guy with a doctorate and enough pretentiousness to insist on being called by his entire full name, two of which belong to another man to whom he's (as far as we can tell) not related by blood, would know.
Malloch then takes potshots at the entire country in apparent revenge for being treated rudely there:
Trump supporters agree America is not a sovereign nation as long as the southern border with Mexico is left open and largely unguarded.

This is why in the United States we have 12 million illegal immigrants and more on the way, not to mention a drug war.

Would Canada allow such a travesty?

[...]

Trump may better be portrayed as a gladiator in the arena who will fight for the common person, who will defend freedom, who will build and rebuild American infrastructure and who will in his own theme: Make America Great Again.

Is this unappealing to Canadians and others who for decades have depended on American largesse, on our military shield, on our nuclear deterrence, on our charity, on our economic engine of growth?
Malloch also serves up some of that so-called "moderate and reasoned" Trump fanboyism. He states that "Trump has made it clear he intends to defend the national interest to bring jobs back by negotiating better trade deals," then adds: "Isn't that what Americans expect of a leader? Is it authoritarian or hateful to suggest and enforce real policies, or is it the responsibility of a leader who truly wants to serve his people? In the great tradition of Western civilization, the notion of a servant leader, expressed in Christ, is a model to follow and uphold not decry."

Yep, Malloch really is suggesting the thrice-married Trump is Christ-like.
Malloch concluded by whining about "students who appear to hate Trump as much as they hate the idea of a traditionally moral Christian America dedicated, as our Founding Fathers understood, to Christian morals that supported profitable business founded with an understanding of spiritual capital."
Yeah, that massive logical leap was totally moderate and reasoned.
Posted by Terry K. at 12:28 AM EDT
Updated: Thursday, April 28, 2016 12:32 AM EDT